---
Event Reports,
The Establishing Shot: Paul Oakenfold plays Clapham Common
I
n August 2001 Paul Oakenfold played a free gig on Clapham Common. The event went down in history as one of the most memorable nights of 2001.
H
aving quit his residency at Cream for the ill-fated Home club in London's Leicester Square, Paul was left without a regular gig and was increasingly looking towards breaking America as his next challenge.
H
e had pretty much created the concept of the superstar DJ and knew it would work in the States if he put in enough hard graft. Meanwhile his status in the UK couldn't have been bigger, as proved one hot summer's night in London.
O
n 24 August 2001, Paul headlined the biggest solo London gig of his career, a Channel 4-sponsored free party at Clapham Common. Paul had a friend at Channel 4's marketing department, who managed to book the DJ to play after the cricket for free, as a favour.
C
hannel 4 had made a commitment to screen the match, and had taken out advertising space all over town. The billboards were changed accordingly – instead of promoting he cricket on the big screen, Channel 4 now elevated Paul's DJ set to top of the bill.
T
here was a food stand, a reasonable sized DJ arena, a few toilets, a couple of policemen and a dog. A handful of security guards loitered round the front of the DJ booth.
T
here was only one problem. In the run-up to the event, England managed to lose the cricket series; it was pretty much over by the time the match reached Clapham Common.
E
verybody was expecting a couple of thousand people to take advantage of this warm summer's day, leisurely pitching up for some nice tunes in the park. Big mistake. According to the police count, around seventy thousand people turned up.
I
n an extract from
Paul Oakenfold: The Authorised Biography
by
Richard Norris
, he recount a memorable free gig at the height of Paul's popularity as a DJ -
"I played Wembley Stadium opening for U2, but the Clapham Common gig was arguably my biggest ever gig in London,

"

says Paul.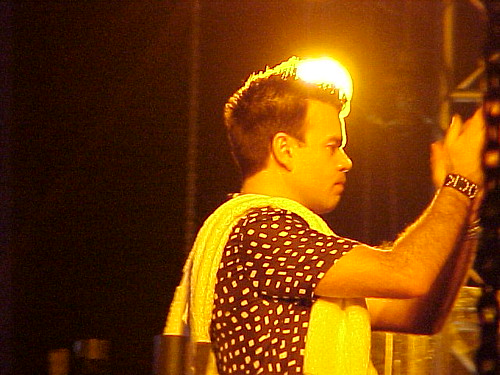 "This was my gig, and it was free. No one in their right mind expected what went on. It was meant to be people sitting watching the cricket, with a bit of a party after. I was thinking, 'it's a nice day, we'll get maybe ten thousand,' but the build-up was massive – they changed the advertising, so all over London I had these big billboard posters sup. It became not just a South London event, it became a massive free party for the whole city. The people just didn't stop coming.

"
T
hings go a bit out of hand at the end, however. Channel 4 had told the Clapham residents that they'd pull the plug at eight, pretty early for an outdoor gig.
P
aul's playing to a crowd the size of Glastonbury, and there's this little screen with a DJ set-up beside it with a small sound system. It was a riot."
"It was f***ing phenomenal," says Marc Marot. "It was one of the most gobsmacking moments. Channel 4 were completely caught on the hop. By the time there were seventy thousand people there, this supposedly giant screen they'd put up looked like a telly.
"The moment they put the Channel 4 logo on to end the show, bottles and cans started flying, says Marc Marot. "Unfortunately the hospitality area was directly behind the screen – we had to hide while vodka bottles were thumping on the roof, whacking into Channel 4 executives' cars! It was like Beirut!"
A
s someone who was there on the day I can tell you that it was one of the greatest gigs I had ever been to. We had just arrived in the UK and this was pretty much the first gig we went to and loved it.
Video: Paul Oakenfold - Clapham Common - London - 24-08-2001 - 3

O
utdoors under the stars listening to one of the greatest DJs of his time in full swing - I thought this is how a party is supposed to be. We didn't really see any of the bad stuff that is mentioned and I was quite surprised when I read about it. We just felt part of the 1000s of revelers enjoying the moment but then again we were way up front and I can't speak for what was happening at the back. In comparison we also went along to
Fat Boy Slim
's Big Beach Boutique open air concert on Brighton Beach and that my friends was out of control and a story for another time.
Paul Oakenfold plays Clapham Common Slide Show
The Establishing Shot: PAUL OAKENFOLD PLAYS CLAPHAM COMMON