---
Film News,
Prometheus Viral - is the Weyland Industries website trying to tell us something? & 20 second Prometheus Trailer Teaser & Ask Charlize Theron and Michael Fassbender about Prometheus
W
e are 79 days away from
Ridley Scott
's eagerly anticipated
Prometheus
hitting big screens and by now hopefully by now you have had a chance to visit the Weyland Industries website viral site for
Prometheus
over here:
https://www.weylandindustries.com/
Last week a viral game on the site unlocked the first decent look at the interior of the Space Jockey's ship. You can read about it over
here
!
At around 11pm on the March 17 we get our first look at the new
Prometheus
Trailer and Sir Ridley QA - more info
here
! In the mean time feast your eyes on this smoking hot teaser trailer for the trailer below, which reveals some of the exciting machinery we can expect to see. The high definition version can be found over at
Yahoo
, where you can also submit your Prometheus questions for
Charlize Theron
and
Michael Fassbender
.
Video: Charlize Theron Promotes New Prometheus International Trailer


Video: Michael Fassbender Promotes New Prometheus International Trailer



Video: Prometheus - Preview of Upcoming Full Trailer
Over lunch today I headed over to the
https://www.weylandindustries.com/
website to see if there had been any updates or clues for a new viral game ahead of the trailer unveiling. Whilst browsing I was struck by a seemingly continuing theme on the site.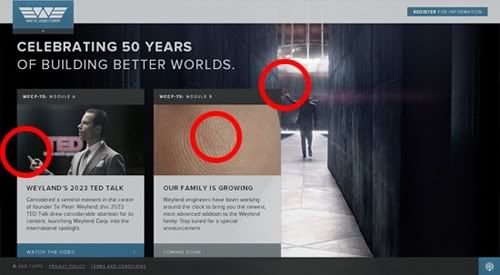 Image: Prometheus Viral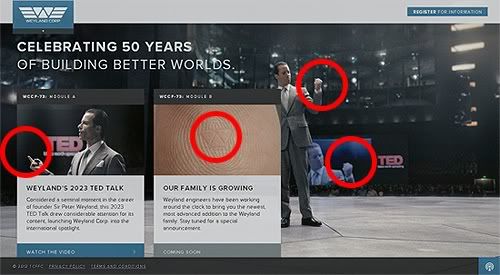 Image: Prometheus Viral
Image: Prometheus Viral
Anyone else think that there are a lot of fingers on display? This is also echoed in Peter Weyland's TED speech which he opens strongly talking about a match between fingers. It is possible that the site could be drawing our attention to parallels between Peter Weyland and the Weyland branded Cybernetic thumb print and consider their relationship. But could there be more to this? Could this be a clue to unlocking the next step in the Viral game?
Prometheus release date: 1 June 2012
A team of explorers discover a clue to the origins of mankind on Earth, leading them on a journey to the darkest corners of the universe. There, they must fight a terrifying battle to save the future of the human race.
Director: Ridley Scott
Writers: Jon Spaihts, Damon Lindelof
Stars: Noomi Rapace, Charlize Theron and Patrick Wilson
THE ESTABLISHING SHOT: PROMETHEUS VIRAL - IS THE WEYLAND INDUSTRIES WEBSITE TRYING TO TELL US SOMETHING? & 20 SECOND PROMETHEUS TRAILER TEASER & ASK CHARLIZE THERON AND MICHAEL FASSBENDER ABOUT PROMETHEUS