---
Film News,
The Establishing Shot: Week 8 2012 Film News Round-up
T
his week on
The Establishing Shot
: Columbus Circle, The Whistleblower, The Best Exotic Marigold Hotel Review, Nicolas Cage Talks Ghost Rider & Comics With Us, We Analyse The M Picture, The Second Official James Bond Still From Skyfall, Sam Mendes Talks James Bond, Skyfall First Bond Film To Be Released In Imax Format, Ancient Brown Bottle Washes Up On The Shore For The Pirates! In An Adventure With Scientists, The Best Exotic Marigold Hotel, Black Gold, Deviation, One For The Money, Rampart, Safe House, The Adopted, 1911: Revolution, Trailers & Clips, The Making Of Act Of Valour Redband Featurette, Screenwriter Jane Goldman Talks About Adapting The Woman In Black, Pusher Trailer, Blackthorn, Rampart Poster, The Stan Lee Awards Nominations Are In! Let The Voting Commence…, The Oscars: The People's Choice Infographic, Imax Appoints Andrew Cripps President Of Imax Emea, Leicester De Montfort University And Hammer Announce Project To House Hammer's Script Archive At The Cinema And Television History (Cath) Research Centre, Hanks, Streep And Titanic Combine To Make The 'Ultimate' Oscar(R) Film - Sky Movies Hd Poll Unites Pair With Spielberg, Freeman And Dench For The Ultimate Fan Choice, X-Factor's Tulisa Hits A High In The Dvd Charts With Demons Never Die! Imax Statement On Wto Agreement With China, Bfi Shorts 2012 Film-Making Competition Is Now Open, Watershed's Super-Short Filmmaking Competition As Part Of Encounters International Film Festival, The Greatest Short Film Competition Ever - Sci-Fi-London 48 Hour Film Challenge, The Reed.Co.Uk Short Film Competition Is Back, Every Monday The Alibi Film Club, The 2012 Game British Academy Video Games Awards, Hitchcock And Hollywood With Tippi Hedren - Bringing The Great Days Of Hollywood To Life, The Hunger Games To Get It's Uk Premiere At The O2, Director And Writer Joe Cornish Introduces Jonathan Kaplan's 1979 Teenage Rebellion Drama, Featuring Matt Dillon In His Screen Debut, Zach Braff's All New People Play At The Duke Of York's Theatre, Bfi Fellowship Award To Richard Lester & Robin And Marian, Tim Burton - The Exhibition In Paris, California Classics Festival Is Back, Damsels In Distress And Whit Stillman In Conversation, Anime Stars Vic Mignogna And Aaron Dismuke To Guest At Mcm Birmingham Comic Con, The Look Preview And Qa With Charlotte Rampling, Sci-Fi London Parade, An Evening With Robert Redford And T Bone Burnett, Moderated By Nick Hornby, James Bond 50th Anniversary Gala Philharmonia Orchestra, Film Pic Of The Week: Ghost Rider Spirit Of Vengeance, Black Gold - Attack The Tanks Clip
This Week on The Establishing Shot:
This week, all the film news worth reading is very late but better late than never I say. We were transported to India with the delightful
The Best Exotic Marigold Hotel
. Flawlessly acted and put together
The Best Exotic Marigold Hotel
will warm your heart. Our review can be found here:
http://www.theestablishingshot.com/2012/02/establishing-shot-best-exotic-marigold.html
The Cabin in the Woods
which I cannot tell you about yet.
The Grey -
good but this pared down earth bound version of
Alien
could have benefited from enhanced characterisation.
Small Town Murder Songs
slightly disappointing.
Tower Heist
– better than expected. The surprising and tense
The Fourth Angel
with
Jeremy Irons
as a vengeful father that takes on a terrorist cell.
As well as
Columbus Circle
. A modern thriller centred on
Selma Blair
who plays a reclusive girl that becomes embroiled in noirish plot.
Columbus Circle
has an interesting plot evoking Hitchcock like tension but doesn't allow you to engage with the characters or sustain the tension. I made the mistake of watching the trailer - which unfortunately leaves nothing to the imagination.
Locked away from the public eye for almost 20 years, an attractive and reclusive heiress suddenly finds her safe and secure existence threatened when a glamorous couple move in next door...
On her 18th birthday, Abigail Clayton (
Selma Blair
) received a staggering inheritance from her late father and promptly sealed herself away from the world in her massive Manhattan loft apartment. Nearly two decades later, the only people Abigail interacts with are Klandermann the concierge, and Dr Raymond Fontaine a trusted family friend.
When the death of her elderly neighbour prompts Detective Frank Giardello to launch an investigation, Abigail finds her carefully constructed and isolated world begins to fall apart – even more so when a new couple, Charlie and Lillian move in to the empty apartment next door causing Abigail to confront her troubled past. But the moment she opens her front door, the true nightmare begins...
A real standout film of the week was
Rachel Weisz
's
The Whistleblower
.
The Whistleblower
absolutely blew me away. It is shocking with it's frank portrayal of human trafficking in Bosnia - as we follow a Nebraskan policewoman sign up to the UN Peace Corp and slowly & painfully peel the veneer off a corrupt system away.
Tense and gripping the whole way through, with great performances from the likes of;
Rachel Weisz
,
Monica Bellucci
,
Vanessa Redgrave
,
David Strathairn
,
Benedict Cumberbatch
and very well put together by Director
Larysa Kondracki
.
The Whistleblower
is a hard film to recommend as the material is surprisingly dark.
Video: The Whistleblower Trailer
The Whistleblower
A drama based on the experiences of Kathryn Bolkovac, a Nebraska cop who served as a peacekeeper in post-war Bosnia and outed the U.N. for covering up a sex scandal.
Director: Larysa Kondracki
Writers: Larysa Kondracki, Eilis Kirwan
Stars: Rachel Weisz, Monica Bellucci and Vanessa Redgrave
The Establishing Shot: Nicolas Cage talks Ghost Rider & comics with us, he sets the record straight on his comic obsession, lets us know his favourite comics & favourite film, reveals secrets behind the Ghost Rider as well as no regrets about Tim Burton's Superman, ideas for a Wicker Man sequel and much, much, much more
A couple of weeks ago I went along to the Ghost Rider: Spirit of Vengeance Press conference. I went mainly to get a better understanding of Nicolas Cage the man behind the tabloid headlines whose films have made close to £3 Billion and hopefully get the chance to talk comics and films with the actor.
During the 30 minute discussion which included some baiting and frankly bizarre questions asked of Nicolas Cage I did indeed get some of the way to understanding the man - as well as talk comics with Cage.
Read more here:
http://www.theestablishingshot.com/2012/02/establishing-shot-nicolas-cage-talks.html
The Establishing Shot: The Best Exotic Marigold Hotel Review
Don't let the subject matter or the word pensioners used in the film's synopsis put you off - you will enjoy checking in to the magnificent The Best Exotic Marigold Hotel! Ever since I saw the classy and engaging promotional footage late last year for The Best Exotic Marigold Hotel. I have been eager to see it and it made its way onto our White List 2012 (most anticipated films of 2012).
Read more here:
http://www.theestablishingshot.com/2012/02/establishing-shot-best-exotic-marigold.html
The Establishing Shot: We analyse the M Picture, the second official James Bond still from Skyfall - more hints & Sam Mendes talks James Bond
With only 8 months to go till the sky falls & Skyfall is unleashed onto the big screen. Amidst production popping up all over London - evoking a sense of pride before jetting out to shoot internationally. We were treated to the release of a second official Skyfall picture M and the first video blog from Skyfall Director Sam Mendes.
The picture isn't all that new as it was revealed by Empire Magazine back in February. But interesting none the less. The on set picture shows legendary Cinematographer Roger Deakins using a Digital Arri Alexa (on a Centre Mount rented from J.L.Fisher obvs.) to shoot over Dame Judi Dench's shoulder at her laptop screen. Second unit director Alexander Witt is checking the picture on a monitor, whilst Sam Mendes directs.
Read more here:
http://www.theestablishingshot.com/2012/03/establishing-shot-we-analyse-m-picture.html
The Establishing Shot: Skyfall first Bond film to be released in IMAX Format
It has just been announced that new James Bond movie SKYFALL will be released in IMAX. This is the first IMAX instalment of the iconic Bond film franchise.
ALBERT R. BROCCOLI'S EON PRODUCTIONS, METRO-GOLDWYN-MAYER STUDIOS, AND SONY PICTURES ENTERTAINMENT TO RELEASE THE JAMES BOND FILM SKYFALL IN IMAX® THEATRES
Read more here:
http://www.theestablishingshot.com/2012/02/establishing-shot-skyfall-first-bond.html
The Establishing Shot: Ancient brown bottle washes up on the shore for The Pirates! In an Adventure with Scientists
Yesterday whilst I was taking my imaginary dog for a walk along the river, my attention was drawn to a flock of Seagulls cawing Mine! Mine! Mine! At the rivers edge. Naturally I made my way over the embankment and down to the river for a closer look.
Read more here:
http://www.theestablishingshot.com/2012/02/establishing-shot-ancient-brown-bottle.html
The Establishing Shot: UK Top 10 Films Friday 24 - Sunday 26 Feb, 2012 courtesy of Digital Cinema Media
1. The Woman In Black
2. The Muppets
3. Ghost Rider: Spirit Of Vengeance
4. Star Wars: Episode 1 3D
5. Journey 2: The Mysterious Island 3D
6. The Vow
7. Chronicle
8. The Descendants
9. The Artist
10. War Horse
The Establishing Shot: This weeks Film Releases from 22 February courtesy of Movie Preview Guide
The Movie Preview guide is a pretty handy breakdown of this weeks and upcoming releases as well as film news. Head over to
http://www.moviepreviewguide.com/
to check it out.
THE BEST EXOTIC MARIGOLD HOTEL
For a disparate group of English pensioners (Judi Dench, Bill Nighy, Maggie Smith, Tom Wilkinson, Penelope Wilton, Celia Imrie and Ronald Pickup), retirement takes an unconventional turn when they abandon their homeland, enticed by advertisements for THE BEST EXOTIC MARIGOLD HOTEL, a seemingly luxurious sanctuary for 'the elderly and beautiful' in Jaipur, India. On arrival, they discover that the hotel falls somewhat short of the romantic idyll promised in the brochure, but they are gradually won over by the ever-optimistic young manager Sonny (Dev Patel), and tentatively embark on a new adventure, finding that life can begin again when you let go of the past.
See if you like: Eat Pray, Love, Another Year
BLACK GOLD
Set in the 1930s Arab states at the dawn of the oil boom, the story centers on a young Arab prince torn between allegiance to his conservative father and modern, liberal father-in-law.
See if you like: Seven Years in Tibet
DEVIATION
Told over one horrifying night, Deviation will take you on a white-knuckle journey into the mind of Frank Norton (Danny Dyer), a dangerous schizophrenic murderer as he escapes from Broadmoor Hospital and embarks on a murderous rampage across London. But when Frankie takes a hostage (Anna Walton), the deadly game of cat-and-mouse truly begins.
See if you like: Saw, Hostel
ONE FOR THE MONEY
A proud, born-and-bred Jersey girl, Stephanie Plum's got plenty of attitude, even if she's been out of work for the last six months and just lost her car to a debt collector. Desperate for some fast cash, Stephanie turns to her last resort: convincing her sleazy cousin to give her a job at his bail bonding company... as a recovery agent. True, she doesn't even own a pair of handcuffs and her weapon of choice is pepper spray, but that doesn't stop Stephanie from taking on Vinny's biggest bail-jumper: former vice cop and murder suspect Joe Morelli - yup, the same sexy, irresistible Joe Morelli who seduced and dumped her back in high school. Nabbing Morelli would be satisfying payback - and a hefty payday - but as Stephanie learns the ins and outs of becoming a recovery agent from Ranger, a hunky colleague who's the best in the business, she also realizes the case against Morelli isn't airtight. Add to the mix her meddling family, a potentially homicidal boxer, witnesses who keep dying and the problem of all those flying sparks when she finds Morelli himself... well, suddenly Stephanie's new job isn't nearly as easy as she thought.
See if you like: Miss Congeniality, Killers
RAMPART
Rampart follows veteran police officer Dave Brown, the last of the renegade cops, as he struggles to take care of his family, and fights for his own survival.
See if you like: Brooklyn's Finest, 16 Blocks
SAFE HOUSE
For the past year, Matt Weston has been frustrated by his inactive, backwater post in Cape Town. A 'housekeeper' who aspires to be a full-fledged agent, the loyal company man has been waiting for an opportunity to prove himself. When the first and only occupant he's had proves to be the most dangerous man he's ever met, Weston readies for duty. Tobin Frost has eluded capture for almost a decade. One of the best ops men that the CIA's known, the ex-intelligence officer has given up assets and sold military intel to anyone with cash since he turned. From trading secrets to North Korea to aiding splinter cells, the damage he's done to the U.S. is immeasurable. And he's now back on the reservation with a secret. As soon as Frost is brought in for debriefing, mercenaries come and tear apart Weston's safe house. Barely escaping, the unlikely partners must discover if their attackers have been sent by terrorists or someone on the inside who will kill anyone standing in the way. Now it's up to Weston to figure out who he can trust before they're both eliminated from the game.
See if you like: Haywire, Killer Elite
THE ADOPTED
The Adopted is the story of a family of women whose lives are never easy but who, over time, manage to surmount their difficulties. There is little place for men in their lives so of course, when one of them falls in love, their world is thrown off balance. Everybody tries their best to find a new equilibrium. But fate barely gives them the chance to catch their breath before throwing them into a whole new reality. Once again, the family has to start over. The adoption process must once again get underway, forcing each of them to find their new places.
See if you like: Beginners, Don't Worry, I'm Fine
More UK Film release dates can be found over at the FDA website:
http://www.launchingfilms.com/release-schedule
The Establishing Shot: in the mail - 1911: Revolution
Celebrate the landmark 100th movie of Jackie Chan's outstanding career in film and re-live the violent and heartbreaking events of The Xinhai Revolution: a bloody uprising that brought the despotic Qing Dynasty crashing to its knees, ending nearly 3,000 years of feudal oppression.
Action legend, Jackie Chan, commands the screen as Huang Xing: the fearless resistance leader and military genius, who opposed a 20,000-strong Imperial Army during the 1908 Guang Xi Uprising with only 200 men! Now, as military commander to legendary revolutionary leader, Sun Yat-sen, he will lead an impoverished and vastly outnumbered rebel army against the Emperor s elite Royal Forces in a battle that will change the course of history!
Cine-Asia will be celebrating this film by releasing 20 of Jackie's infamous Eastern Cinema films on DVD at a low promotion price across stores nationwide!
Video: Jackie Chan's 1911 Revolution Official Trailer - Coming March 2012 from Cine Asia
1911 Revolution - Available on DVD & Blu Ray 19th March 2012
The Establishing Shot: Featurette of the week - The Making of Act Of Valour RedBand Featurette
Momentum Pictures are proud to announce the UK release of the Bandito Brothers' explosive Navy SEAL action movie, ACT OF VALOUR, starring active-duty Navy SEALs that takes you deep into the secretive world of the most elite, highly trained and deadly group of warriors in modern combat.
ACT OF VALOUR has taken the top spot at the US box office on Oscar weekend, with a strong $24.7 million opening, and a screen average of $8,128.
When the rescue of a kidnapped CIA operative leads to the discovery of a deadly terrorist plot, a team of SEALs is dispatched on a global manhunt. As the men of Bandito Platoon race to stop a coordinated attack that could kill and wound thousands of innocent civilians, they must balance their commitments to country, team, and their families back home.
Based on real events, the film combines stunning combat sequences, up-to-the minute battlefield technology and heart-pumping emotion for the ultimate action adventure.
Directed by
Video: The Establishing Shot: The Making of Act Of Valour RedBand Featurette
Conceived by former Baja 1000 champion Mike "Mouse" McCoy and former stuntman Scott Waugh, ACT OF VALOUR goes deep into the secret world of today's most elite and highly trained group of warriors.
Act Of Valour opens on 23 March, 2012
The Establishing Shot: Interview of the week – Screenwriter Jane Goldman talks about adapting The Woman in Black
Based on the classic ghost story, THE WOMAN IN BLACK tells the tale of Arthur Kipps (Daniel Radcliffe), a lawyer who is forced to leave his young son and travel to a remote village to attend to the affairs of the recently deceased owner of Eel Marsh House. Working alone in the old mansion, Kipps begins to uncover the town's tragic and tortured secrets and his fears escalate when he discovers that local children have been disappearing under mysterious circumstances. When those closest to him become threatened by the vengeful woman in black, Kipps must find a way to break the cycle of terror.
The Woman In Black is still scaring audiences in your local cinema.
Video: The Establishing Shot: Screenwriter Jane Goldman talks The Woman In Black
The Woman in Black
A young lawyer travels to a remote village where he discovers the vengeful ghost of a scorned woman is terrorizing the locals.
Director: James Watkins
Writers: Susan Hill, Jane Goldman
Stars: Daniel Radcliffe, Janet McTeer and Ciarán Hinds
The Establishing Shot: Trailer of the Week – Pusher
The I have been looking forward to the English remake of Nicolas Winding Refn's Pusher for a little while now, so when I received the heads up on the first trailer I was really excited - but after watching it felt a little underwhelmed. It seemed to make Pusher look like every other Brit gangster running out of time film - of which there are many. So I sense checked it with others that enjoyed the Danish version of Pusher and the outcome was that some felt that the trailer gives too much away and that part of their enjoyment of Pusher was that they had no idea of what it was about and where it might go.
But I kept coming back to the trailer and watching and eventually the other main factor of the original Pusher that I liked was the dislocated seedy world that Refn creates and fills with great characters which is somewhere that this Pusher seems to be heading - with the casting of the underrated Richard Coyle as Frank, if he brings a bit of his charm to the role we are in for a treat as well as this will be our first feature film taste of model/singer turned actress Agyness Deyn and with one of the highlights of the Pusher trilogy is Zlatko Buric reprising his role as one of the greatest characters from Pusher top dog Milo. And with an original oundtrack from Orbital Pusher is back on my list of can't wait to see films of 2012.
As edgy and explosive as Nicolas Winding Refn's 1996 cult classic, this English language remake tells the story of a week in the life of FRANK, a big time drug pusher in London. Frank's life is a fun-filled rollercoaster of a ride that soon spins out of control. Friendships start to vanish, there is no longer room for love within his life, and violence takes over. Danger and chaos are all around and he becomes a man trapped in his own world. Eventually Frank is left with no one to turn to and nowhere to go, becoming a man paralysed with the fear of knowing there is no way of preventing his inevitable fate. Fast-paced, visually striking, witty and with some of acting's finest talents, Pusher will have you gripped from beginning to end.
Video: The Establishing Shot: UK Pusher Trailer has landed
Vertigo Films are delighted to announce the forthcoming release of Luis Prieto's PUSHER, boasting a best-of-British cast with star performances from iconic international supermodel and actress Agyness Deyn, Brit superstar Richard Coyle (W.E., Prince of Persia), Bronson Webb ('The Tudors', 'Robin Hood', Dead Man Running) and Paul Kaye (It's All Gone Pete Tong, Match Point) in a reimagining of Nicholas Winding Refn's cult classic of the same name.
An East London dealer (Richard Coyle) grows increasingly desperate after a botched get rich quick scam leaves him with a large debt to repay to a ruthless drug lord. Fast-paced, visually striking, witty and with some of Britain's finest acting talents, PUSHER will have you gripped from beginning to end.
Nicolas Winding Refn takes on the role of Executive Producer, with Rupert Preston from Vertigo Films and Chris Simon and Felix Vossen from Embargo Films producing.
The Establishing Shot: Poster Of the week - Rampart
Rampart exhibits one of Woody Harrelson's finest performances to date as a corrupt policeman out of step and time which his colleagues. To celebrate the release of Rampart a really cool retro poster has been created evoking imagery of the topsy turvy underworld world police officer Dave Brown inhabits.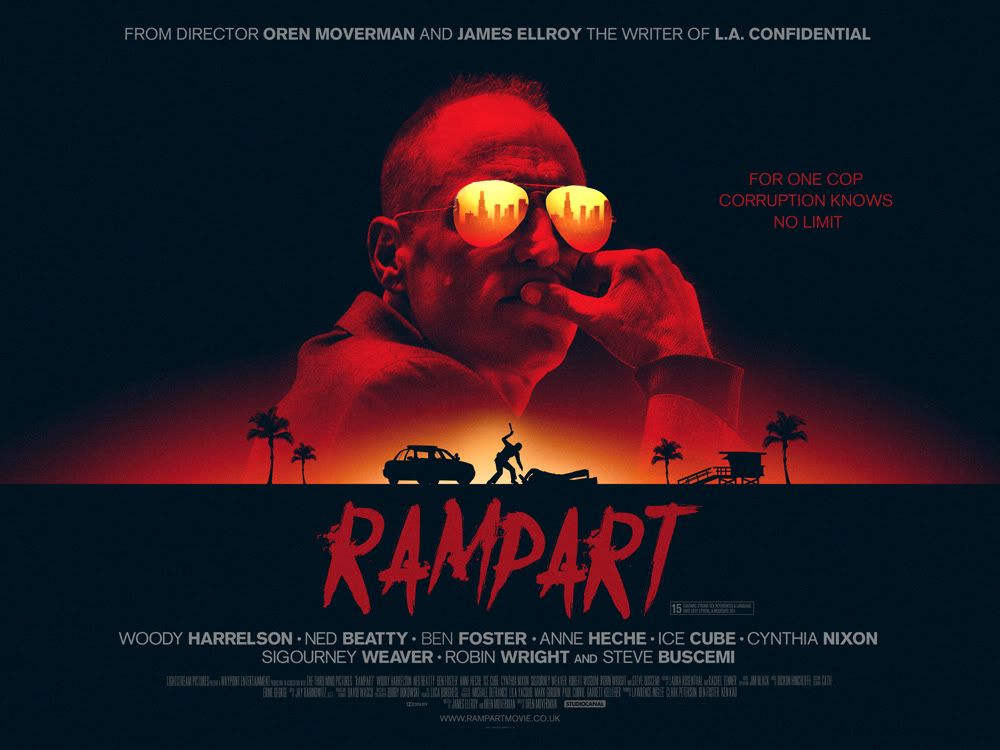 Image: Retro Rampart Poster - Click to enlarge
From a screenplay by James Ellroy ("L.A. Confidential") and director Oren Moverman (Oscar-nominated "The Messenger"), comes Rampart. Veteran police officer Dave Brown (Woody Harrelson), dedicated to doing "the people's dirty work" and asserting his own code of justice, is the last of the renegade cops in the LAPD. When he gets caught on tape beating a suspect, he finds himself in a personal and emotional downward spiral as he struggles to take care of his family, and fight for his own survival. With an all star cast including Robin Wright, Sigourney Weaver, Ben Foster and Steve Buscemi, this high octane cop thriller has been labelled "a film to file alongside the great LA noir masterpieces of the 1970s – dazzling, stunning and unique"
Rampart is in cinemas now.
The Establishing Shot: Independent Spotlight – BLACKTHORN
Any film involving; Sam Shepard, Butch Cassidy and the Sundance Kid, Cowboys, hidden gold , gorgeous Bolivian landscapes, Stephen Rea and Nikolaj Coster-Waldau needs a special mention.
It's been said (but unsubstantiated) that Butch Cassidy and the Sundance Kid were killed in a standoff with the Bolivian military in 1908. In BLACKTHORN, Cassidy (Sam Shepard) survived, and is quietly living out his years under the name James Blackthorn in a secluded Bolivian village. Tired of his long exile from the US and hoping to see his family again before he dies, Cassidy sets out on the long journey home. But when an unexpected encounter with an ambitious young criminal (Eduardo Noriega) derails his plans, he is thrust into one last adventure, the likes of which he hasn't experienced since his glory days with the Sundance Kid.
Co-starring Academy Award winner Stephen Rea (Ondine, The Crying Game) and Nicolaj Coster-Waldau ("The Game Of Thrones," Kingdom Of Heaven), Blackthorn was directed by three-time Goya winner Mateo Gil and was shot on location in the breathtaking Bolivian landscape, believed to be Cassidy's final resting place.
Video: BLACKTHORN Trailer
BLACKTHORN Opens in cinemas from 13th April 2012
The Establishing Shot: 2012 Week 8 Trailers & Clips
We Bought A Zoo Trailer - March 16 2012
Directed by Cameron Crowe and with an all-star cast featuring Matt Damon, Scarlett Johansson, Thomas Haden Church, Peter Riegert, Elle Fanning and Angus Macfadyen, We Bought A Zoo is a story about finding joy, the power of family, and the triumph of hope. A widowed father buys a dilapidated zoo in hopes of making a fresh start. While facing enormous odds to keep the zoo open, he must find the courage to recommit to his children and to their new life together.
http://youtu.be/I4xGlZmk6tQ
The Establishing Shot: Ghost Rider Spirit of Vengeance Reload Clip - 17 February, 2012.
Renowned stunt motorcycle rider Johnny Blaze (Nicolas Cage) did a deal with the devil that saw him transformed into the legendary vigilante known as The Ghost Rider.
Now in an attempt to keep his soul sucking alter ego at bay, Blaze has isolated himself in the remotest of locations, but, when Moreau, a spirited monk (Idris Elba) implores him to save a young boy from the devil himself (Ciarán Hinds), Blaze must put aside his reluctance to bring out the Ghost Rider in order to face his own demons and possibly rid himself of the curse forever.
Video: The Establishing Shot: Ghost Rider Spirit of Vengeance Reload Clip
The Establishing Shot: Ghost Rider: Spirit of Vengeance - Ghost Rider & Blackout Road Fight Clip
http://www.youtube.com/watch?v=-t_QMIJO5yM
The Establishing Shot: Ghost Rider Spirit of Vengeance - Moreau Car Chase Clip
http://www.youtube.com/watch?v=K2x1yTHOAmA
The Establishing Shot: Ghost Rider Spirit of Vengeance - The Deal Clip
http://www.youtube.com/watch?v=kqZjydiuNIU
The Establishing Shot: The Cold Light of Day Trailer - 6 April, 2012
This heart pounding thriller follows a young American (Henry Cavill), whose family is kidnapped whilst on vacation in Spain. A cat and mouse chase ensues, but time is running out.
Video: The Establishing Shot: The Cold Light of Day Trailer - Henry Cavill Bruce Willis
The Establishing Shot: All New People - Zach Braff's Hello Scottish Friends Promo - 22 February, 2012
The dead of winter, Long Beach Island, New Jersey. Charlie (Zach Braff), has hit rock bottom. Away from the rest of the world, this perfect escape is interrupted by a motley parade of misfits who show up and change his plans. A hired beauty (Susannah FIelding), a fireman (Paul Hilton), and an eccentric British real estate agent (Eve Myles) desperately trying to stay in the country all suddenly find themselves tangled together in a beach house where the mood is anything but sunny.
Video: The Establishing Shot: All New People - Zach Braff's Hello Scottish Friends Promo
The Establishing Shot: Bel Ami - Diary of a Cavalry Officer Clip - 9 March , 2012
Based on the classic novel, BEL AMI chronicles the rise of penniless ex-soldier Georges Duroy (Robert Pattinson, THE TWILIGHT SAGA, REMEMBER ME) through the echelons of the 1890s Parisian elite and is a tale of ambition, power and seduction. Also starring Uma Thurman, Kristin Scott Thomas, Christina Ricci and Colm Meaney. BEL AMI is a timeless epic with a modern twist. A Dangerous Liaisons for a new generation.
Video: The Establishing Shot: Bel Ami - Diary of a Cavalry Officer Clip
The Establishing Shot: Bel Ami - Something Important to Tell You Clip
http://www.youtube.com/watch?v=xebkI3S82vo
Kidnap and Ransom Season 2 – 26th March 2012
Following the ITV1 broadcast and DVD success of the crime thriller mini-series Kidnap And Ransom in 2011, Trevor Eve (Waking The Dead) makes a welcome and highly anticipated return as freelance hostage negotiator Dominic King in the three-part series KIDNAP AND RANSOM SERIES TWO, which began broadcast on ITV1 last night (23rd February 2012) and will be released on DVD by FremantleMedia Entertainment on 26th March 2012. Eve heads a stellar cast that includes fellow original series cast members Helen Baxendale (Friends; Cold Feet), Natasha Little (Mistresses) and Amara Karan (The Darjeeling Limited) alongside guest stars Sean Gilder (Shameless), Sharon Small (Downton Abbey), Madhur Mittal (Slumdog Millionaire), Christopher Fairbank (Five Daughters), Owen Teale (Game of Thrones) and Kimberley Nixon (Fresh Meat; Cranford).
http://www.youtube.com/watch?v=4Sk3ZmSaqEI
The Establishing Shot: Film News
THE STAN LEE AWARDS NOMINATIONS ARE IN! LET THE VOTING COMMENCE…
KAPOW! COMIC CONVENTION is once again hosting the annual Stan Lee Awards on Saturday 19th May, and the list of nominations is now in! Compiled by a variety of expert judges from the world of comics, movies, TV, gaming, publishing and entertainment – the shortlist of nominations is now open to public vote at http://www.kapowcomicconvention.com/awards
KAPOW! is taking place at the London Business Design Centre on 19th & 20th May 2012, and visitors will be amongst the first in the world to get an exclusive look at various upcoming comics, movie blockbusters and hit TV shows from the biggest publishers and studios in the world.
Stan Lee is honoured to have these awards in his name explaining "this is a fantastic platform to reward the cream of comic book talent for all their creativity and imagination".
This year Spider-Man, Daredevil, Batman and Wonder Woman battle it out for the Best Comic Hero award, Sara Pichelli is up for two awards Best Newcomer and Best Artist, and Best Film looks set to be close contest between Captain America, Thor, X-Men: First Class and Rise of the Planet of the Apes. The Walking Dead is up for Best TV Show again this year, can they win this prestigious award two years running? The full list of nominations is now live on the Kapow! website http://www.kapowcomicconvention.com/awards and voting will close on Thursday 12th April 2012.
The announced comic guest list is unrivalled, and includes many creators who haven't attended UK conventions in almost 20 years. Joe Quesada, Marvel's Chief Creative Officer, will be taking part in panels and a signing, plus portfolios reviews with Marvel's talent scout C.B. Cebulski. Frankie Boyle and Jimmy Carr, who both contribute to UK news stand magazine CLiNT, will be doing a Q&A. Warren Ellis (The Authority, Planetary), Frank Quitely (Batman), Dave Gibbons (Watchmen), Olivier Coipel (The Mighty Thor), Bryan Hitch (The Ultimates, The Authority), Mark Millar (Kick-Ass, Civil War) and many, many more will all be signing autographs, speaking on panels and giving exclusive previews of upcoming works.
Tickets are on sale now at www.kapowcomicconvention.com only available in advance. There will be no on the door ticket sales. Please join us on Twitter @KapowCon and Facebook to receive regular updates and announcements on the show.
THE OSCARS: THE PEOPLE'S CHOICE INFOGRAPHIC
The good people over at Way To Blue have put together an infographic representing which films tweeters are most willing on to win this year and which films are most talked about, as well as the potential box office effect winning will have on titles.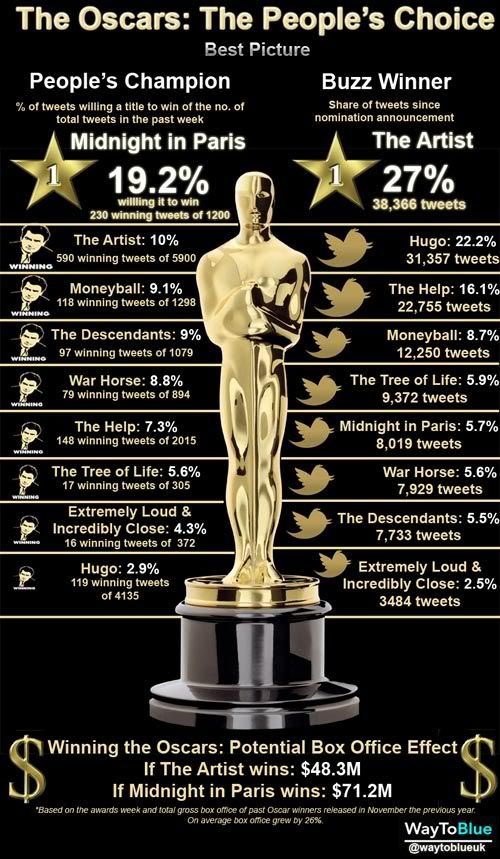 Image: Way To Blue The People's Choice Infographic
Please note:
- Midnight in Paris has the most vocal of its fans with 19.2% of its total tweets in the past week expressing supporting sentiment for it to win at this year's Oscars.
- The Artist dominating share of tweets is not surprising but Hugo's buzz position is surprisingly high considering it has the least % support of tweets willing it on to win.
IMAX APPOINTS ANDREW CRIPPS PRESIDENT OF IMAX EMEA
IMAX has appointed Andrew Cripps as President, EMEA. In this role, Cripps will be responsible for the expansion of IMAX's theatre network in these regions and will work closely with the Company's Filmed Entertainment division to identify international local-language IMAX DMR® and distribution opportunities. Cripps was also named Executive Vice President of IMAX Corp.
Cripps joins IMAX from London-based Paramount Pictures International, where he had been President since January 2007. Previously, Cripps was President and COO of UIP, a joint venture distribution company between Paramount and Universal. He joined UIP in 1986 as Executive Assistant to the General Manager, Japan, and was later promoted to the roles of Vice-President Sales, South East Asia and Senior Vice-President, International Sales. Cripps spent 19 years in Japan and speaks fluent Japanese. A British citizen born in Colombo, Sri Lanka, Cripps holds a BSc in Industrial Management from the Georgia Institute of Technology, Atlanta, and an MBA in International Business from Georgia State University, Atlanta.
"Given Andrew's leadership, vast industry experience and strong relationships with exhibitors and studios, we believe he is well-equipped to help us maximize the growth opportunities that exist in the underpenetrated markets of EMEA," said Gelfond. "Our goals for 2012 include igniting our expansion efforts in Latin America, India and Europe, and bringing someone of Andrew's caliber on board further demonstrates our commitment to achieving these objectives. I am confident that Andrew's international expertise will benefit our organization beyond EMEA and we welcome him to the IMAX family."
"I am delighted to join IMAX, a company I know and respect and a name that is synonymous with quality entertainment," said Cripps. "I hope to leverage my more than 20 years in Europe, as well as my relationships with exhibitors, to expand the IMAX network and grow the brand."
LEICESTER DE MONTFORT UNIVERSITY AND HAMMER ANNOUNCE PROJECT TO HOUSE HAMMER'S SCRIPT ARCHIVE AT THE CINEMA AND TELEVISION HISTORY (CATH) RESEARCH CENTRE
Hammer Continues Its Commitment Toward Preserving Its History And Legacy - Archive Will Be Open To Students And Researchers Of Film History
The Cinema And Television History (CATH) Research Centre at Leicester De Montfort University is delighted and honoured to be the custodian of Hammer's archive of scripts.
Internationally, Hammer is the most famous of Britain's film studios, and in the UK it has an impressive heritage. Most recently with The Woman In Black – which has since its release taken over £10m in the UK and over $60m worldwide – Hammer is bringing its brand of horror films to a whole new generation.
The CATH Research Centre is proud to be associated with the revival of this classic British brand, and to be entrusted with elements of its historic archive at a time when the company is restoring its classic films for Blu-ray and DVD release. Our agreement with Hammer will involve the cataloguing and curation of the materials, but the intention is also to make them available to scholars in digital form. We expect to launch this project at a conference and film festival in Leicester in the first half of July this year.
De Montfort was selected over competing universities because of the particular expertise in British genre cinema at the CATH Research Centre. The Centre's Director, Steve Chibnall, is the only Professor of British Cinema and has co-edited a collection on British Horror Cinema. Dr. Ian Hunter has published widely on Hammer and other horror and science-fiction films, and taught a pioneering module on the company as part of one of DMU's degree courses. The CATH Research Centre also has among its Associate Research Fellows David Pirie, who published the first serious work on British Gothic cinema, A Heritage of Horror (1973), and Jonathan Rigby, whose book English Gothic (2000) has become the standard work on this nationally-distinctive film genre. They have now been joined by Marcus Hearn, Hammer's official historian and most recently author of The Hammer Vault, a beautifully-produced tour through the company's archives. Marcus was inducted into the CATH Research Centre's community of associate research fellows last week at an annual symposium.
Steve Chibnall: "When I was growing up, Hammer and horror were virtually synonymous, and seeing one of their films was a rite of passage into adulthood. Of course, they liked to sail as close to the wind as possible as far as the censor was concerned, but their products were memorable and influential internationally, and have now been recognised as Britain's most important contribution to fantasy cinema. Although they became incredibly successful after the release of classic shockers like The Curse Of Frankenstein (1957) and Dracula (1958) and won a Queen's Award for Industry in the 1960s, Hammer remained something of a maverick independent with a transgressive edge that kept audiences interested and expectant. We welcome the arrival of this collection at its new home in dedicated archival space at De Montfort University and look forward both to making its treasures available in electronic form to the wider community of scholars, and to a long and fruitful collaboration between the CATH Research Centre and Hammer."
In excess of 240 items from the Hammer script archive have been deposited with the CATH Research Centre, opening Hammer's collection up to public research and study for the first time.
Hammer's archivist Robert Simpson oversaw the collection and transfer of the material, formally handing over the first of the script boxes to Professor Chibnall at the CATH Associate Research Fellows' Day at De Montfort University on Wednesday 8th February 2012.
HANKS, STREEP AND TITANIC COMBINE TO MAKE THE 'ULTIMATE' OSCAR(r) FILM
- SKY MOVIES HD POLL UNITES PAIR WITH SPIELBERG, FREEMAN AND DENCH FOR THE ULTIMATE FAN CHOICE -
Film fans have named their 'Ultimate' Oscar(r) line-up as a combination of Titanic starring Tom Hanks and Meryl Streep, directed by Steven Spielberg, according to new research from Sky Movies HD.
Morgan Freeman and Dame Judi Dench would be the ideal support cast according to the poll of over 1,000 UK and Irish film fans, commissioned to highlight Sky Movies HD's 8th consecutive year of covering the Oscars(r) live on Sunday 26th February. This year's live coverage begins with Oscars(r) 2012: Red Carpet Live simulcast across Sky Movies Premiere/HD and Sky Living/HD before The 84th Annual Academy Awards(r) hosted by movie critic Alex Zane on Sky Movies Premiere/HD. Oscars(r) 2012: The Highlights will air at 10pm on Monday 27th February on Sky Living/HD.
The epic disaster movie Titanic, which originally won a total of 11 Academy Awards(r) in 1997 was named the Ultimate Best Picture winning film with 10.2% of the vote, followed by Schindler's List with 9.6% and The Lord of the Rings: The Return of the King - which received 9.4% despite rivalling the winner's haul of 11 Oscars(r).
Double Oscar(r) winner Tom Hanks narrowly stole victory over Sir Anthony Hopkins to take the Ultimate Lead Actor crown with 14.1% compared with the Welshman's 14%. Hardman Robert De Niro followed in third position in the poll with 10.4%.
Current awards favourite Meryl Streep - the most nominated actress of all time - was a clear winner as the Ultimate Lead Actress with 18.7% of votes. With two Academy Awards(r) already under her belt and a third possible for The Iron Lady, Streep even overtook British acting royalty Dame Helen Mirren (14.4%) and Dame Maggie Smith (8.1%). Voters put on a clearly patriotic display, choosing UK names over such US luminaries as Julia Roberts and Sandra Bullock.
The owner of one of the most recognisable voices in movies, Morgan Freeman took the honours for the Ultimate Supporting Actor with 17.6%, taking the edge over double-Oscar(r) winners Michael Caine (10.1%) and Denzel Washington, third with 9.9%.
Brit legend Dame Judi Dench secured her position in the line-up with the top place as the Ultimate Supporting Actress, taking over a fifth of votes (21.6%) and striding ahead of runners up Meryl Streep and Maggie Smith - both also named in the Best Actress category. Other names completing the top five in this category were Angelina Jolie and Whoopi Goldberg who received 8% and 7.3% respectively.
Completing the 'Ultimate' Oscar(r) line-up was the nod for Ultimate Best Director, which went to double Oscar(r) winner Steven Spielberg with a unanimous 40% of the final vote. Spielberg's nearest competition for the crown was this year's hopeful Martin Scorsese with 10.1% and Clint Eastwood with 7.8% of the vote.
Sky Movies presenter and Oscars(r) anchor Alex Zane comments: "Well, film fans clearly know a winning combination when they see one and with an impressive combined 19 gold statuettes to its - as yet untitled - name, it's safe to say this 'Ultimate' Oscar(r) movie would be one spectacular watch! Now as for this year's winners, you're going to have to join me on the night to find out who will be taking home the most sought-after accolades in Hollywood as I present Sky Movies' live and exclusive coverage of The Academy Awards(r)'"
X-FACTOR'S TULISA HITS A HIGH IN THE DVD CHARTS WITH DEMONS NEVER DIE!
"She's awesome, that's the word to describe her. She looks beautiful. She was pretty much getting into the performance first time." - Arjun Rose, Director Demons Never Die on Tulisa
At the same time as the stunner is hitting it big in the US, X-Factor judge Tulisa is making waves in the UK with the release of her first feature film Demons Never Die, out on DVD today!
Written and directed by Arjun Rose and Exec Produced by Golden Globe winner Idris Elba (Luther, The Wire). Demons Never Die, follows the lives of eight very different individuals, who come together to form an unlikely friendship, is already making waves in the DVD charts on it's first day of sales.
When London detectives Bates and Mason (Inside Men and Top Boy Ashley Walters and Reggie Yates) are sent to investigate a series of deaths at a local high school, they soon focus on a gang with a dark secret.
Led by misfit Archie (Robert Sheehan, Killing Bono, Misfits) and school psycho Kenny (Jason Maza, Rise of the Footsoldier) all of the gang are battling inner demons - victims of violence, bullying, disorders and prejudice.
Each has a reason to kill and a reason to die.
Set to a stunning soundtrack featuring tracks by Jessie J, Ed Sheeran, Wretch 32, Rizzle Kicks and more.
Demons Never Die released today on Sky Box Office and on DVD and Blu-Ray from HMV, Tesco, Asda, Sainsbury's, Morrisons, iTunes, Amazon and Play is already racing up the charts with Tulisa fans rushing out to get their very own copy of this great Indie Brit flick.
Follow Demons Never Die on:
http://www.facebook.com/DemonsNeverDie
http://www.twitter.com/demonsneverdie
IMAX STATEMENT ON WTO AGREEMENT WITH CHINA
Agreement Underscores IMAX's Contributions to Chinese Filmed Entertainment Marketplace. CEO Richard L. Gelfond offered the following statement on the WTO agreement with China:
"We believe that the new WTO agreement with China is a milestone for the global movie consumer that will result in even more high quality film product being exported into China, one of the fastest growing markets in the world. We are pleased that the new agreement highlights IMAX and allows for even greater flexibility to bring IMAX films into China within a structure that fosters more growth and collaboration. We've spent the last 15 years on the ground building relationships and expanding IMAX's presence in China and we believe this significant development will help us further our network expansion efforts and enable IMAX to continue providing Chinese consumers with great films from both Hollywood and China. We are also committed to bringing Chinese films presented in our format to the U.S."
There are currently 217 IMAX® theatres open or contracted to open in Greater China
Experience It In IMAX® The World's Most Immersive Movie Experience.
www.imax.com
The Establishing Shot: Film Making Competitions
BFI Shorts 2012 Film-making Competition is now open
BFI Shorts 2012 is an exciting new short film production scheme which will support up to 20 live-action fiction projects, with budgets ranging from £25,000 to £50,000. We are looking for a diverse slate of films that tell compelling stories and have the ability to engage, inspire and entertain audiences.
We are now accepting applications from directors, writers and producers. If you are interested in applying, please read the Guidelines for Applicants and FAQ for further information about the application and selection process.
The deadline for applications is 5pm, Friday 23 March 2012.
For more info head over to:
http://www.lighthouse.org.uk/bfi-shorts-2012/about-bfi-shorts-2012
Watershed's super-short filmmaking competition as part of Encounters International Film Festival
Can you do it in 90 seconds? DepicT! is Watershed's international short film competition that, since its creation by Brief Encounters in 1998, has been challenging filmmakers to create 90 second ultra-short masterpieces.
Every year we receive hundreds of films of every genre from dozens of countries all around the world all competing for our great range of prizes and industry exposure. The teams of judges who deliberate over the entries have included some superstar names – such as Peter Jackson, Pete Postlethwaite and Damien O'Donnell.
The shortlisted DepicT! filmmakers, often in that crucial early stage in their career, are invited to the Encounters Short Film & Animation Festival and offered a prime industry platform. The festival is a priceless opportunity for filmmakers to promote their work and make contact with a broad range of international industry professionals from distributors and producers to funding bodies and exhibitors, as well as other filmmakers and, of course, enthusiastic short film fans.
Deadline: Mon 9 July, 2012
http://www.depict.org/
The greatest Short film competition ever - Sci-Fi-London 48 Hour Film Challenge
Over the last four years the SCI-FI-LONDON Film Festival has run a 48hour Film Challenge and we have had over 380 films completed, many of which have gone to other film festivals and been broadcast on TV.
The challenge takes place a few weeks before the film festival so we can judge all the entries and the winning films can be screened at the festival.
To take part is easy:
Get a crew together, scout some locations, prep your cast and be ready to make a 5 minute short film in just 48 hours.
We ask one member of your team to come to the Apollo Piccadilly on Saturday 14 April at 10.30am where we give you the TITLE of the film you will make, some DIALOGUE that one of your characters must say to screen, and a list of PROPS that must be seen in the film. This year we also introduce an optional scientific theme... this could be nano-tech, cloning, gene-splicing...or something a little more "fringe".
Once you have all your elements, you have until Monday morning to return the completed movie to us.
In 2008, Gareth Edwards took part and won the competition. Gareth's debut feature is the multiple award-winning MONSTERS – and the project was green-lit because Vertigo Films saw his winning 48hour short-film right here! So impressed were they with what he could do with no budget in just 2 days that they decided to develop a feature with him.
In 2011 we had a prize from Vertigo Films of a feature-film development deal, we hope that the winners will complete their first feature next year. Also, one of the runners-up was scouted by The Mill and is now working on some amazing projects. We are working on prizes and jury right now, but the dates are locked, so start planning.
For 2012 we can confirm Vertigo Films are offering another development deal to the winners!
The 2012 challenge weekend is 14 - 16 April.
For more info head over to:
http://www.sci-fi-london.com/48-hour-film-challenge
The reed.co.uk Short Film Competition is back
This year they've taken 'The Boss' as their theme. Enter your film for the the opportunity to win one of four cash prizes, including the Grand Prix of £10,000.
The Challenge:
We want you to write, shoot and edit a film no longer than 3 minutes, based on the theme, 'The Boss'
Be funny, be serious, be artistic, be thought provoking. Shoot with a film crew or just shoot on your mobile. However you choose to make your film, make sure you submit your entry by 25 March 2012 at 23.59, to be in with a chance of winning one of four prizes.
Here's how to enter:
Make a short film (no more than three minutes), based on an original idea about 'The Boss'
Upload your short film to YouTube or Vimeo
Complete the online application, including the YouTube or Vimeo URL for your film
Deadline: 25 March 2012 at 23.59
For more info head over to:
http://www.reed.co.uk/film
The Establishing Shot: For your calendar
EVERY MONDAY THE ALIBI FILM CLUB
A bit like Fight Club The Alibi Film Club is an underground movement that is only whispered about whilst gathering some serious grass roots film fans since its inception about 71 weeks ago! This is largely due to the incredible films they feature like; Zardoz, The Warriors, Logan's Run, Friday 13th Part 2 and many, many real cult classics.
It's free EVERY Monday! Friendly, free popcorn and karaoke afterwards... "The coolest film club in London" Time Out.
As of this week they are pleased to announce that Jameson whiskey who are well know for the cult film events! are an official sponsor.
For more info head over to:
http://filmclub.thealibilondon.co.uk/
Facebook:
https://www.facebook.com/pages/The-Alibi-Film-Club/309894705712637
Jameson Cult Film:
https://www.facebook.com/jamesoncultfilmclub
THE 2012 GAME BRITISH ACADEMY VIDEO GAMES AWARDS
The GAME British Academy Video Games Awards will take place on Friday 16 March 2012 and will be at the London Hilton on Park Lane, 22 Park Lane. Hosted by Comedian and avid gamer Dara O Briain for the fourth year running, the awards will be streamed live at
http://go.ign.com/baftamicrosite
, as well as at
www.bafta.org
HITCHCOCK AND HOLLYWOOD WITH TIPPI HEDREN - BRINGING THE GREAT DAYS OF HOLLYWOOD TO LIFE
Tippi Hedren, the last of Alfred Hitchcock's glamorous blondes, will be on-stage at the Fairfield to tell you of her time working with Hollywood's master of suspense. A critic wrote, 'Hitchcock had given us one Grace Kelly in a generation and seems intent on giving us another in the person of Tippi Hedren, a classically beautiful, regally poised blonde.'
With clips from some of Hitchcock's most famous films on the Fairfield's Big-Screen, Miss Hedren will discuss the background to famous Hitchcock films, such as Vertigo, Psycho, Marnie, The Man Who Knew Too Much and North By North West.
Alfred Hitchcock left his hometown, East London, to be at the heart of the Film World in Hollywood. With his quirky approach to film-making, he had a deep understanding of music's role in heightening tension. Even so, The Birds has no music, while Psycho uses nothing but string instruments. Bernard Herrmann, Hitchcock's favourite composer, won an Oscar for The Devil & Daniel Webster.
With the critically acclaimed New Queen's Hall Orchestra on stage to play some of Hollywood's greatest scores, this will be an exceptional evening for anyone interested in the cinema and fine music-making. John Farrer, a great American conductor and a devoted fan of the NQHO, will guarantee the full Hollywood treatment.
Tippi Hedren is not just a Hollywood Star. She is also famous for her love affair with wild animals, meeting her first lion while filming in Africa. Ever since, she has devoted herself to looking after some 60 Big-Cats, including lions, tigers, leopards and cougars at her reserve in California. Many of these superb animals are cast-offs from zoos and circuses. With her daughter, Melanie Griffith, Miss Hedren produced and appeared in a film entitled 'Roar', which helped establish her big-cat reserve. Perhaps she will tell us a little about this wonderful work. What an extraordinary evening we shall have!
New Queen's Hall Orchestra
John Farrer - Conductor
Tippi Hedren - Hollywood Actress
Fairfield Concert Hall, Croydon
Saturday 17th March 2012 at 7.30pm
For more info head over to:
http://www.nqho.com/NQHO/Concerts-17th_Mar_2012.html
THE HUNGER GAMES TO GET IT's UK PREMIERE AT THE O2
This week The European Premiere of THE HUNGER GAMES was announced to take place on Wednesday 14th March at the Cineworld Cinema at the O2 arena following its world premiere in Los Angeles on March 12th. Director Gary Ross will present his stellar cast Jennifer Lawrence, Josh Hutcherson, Liam Hemsworth and Elizabeth Banks to UK fans on this date.
UK fans will have the opportunity to book tickets across all cinema chains from March 9th, 2012. Further details will follow.
DIRECTOR AND WRITER JOE CORNISH INTRODUCES JONATHAN KAPLAN'S 1979 TEENAGE REBELLION DRAMA, FEATURING MATT DILLON IN HIS SCREEN DEBUT.
14 Mar 20:30 NFT1
The BFI are delighted to announce that Joe Cornish, director of Attack the Block, co-writer of The Adventures of Tintin: Secret of the Unicorn and one half of The Adam and Joe Show, will introduce Over the Edge as the film that inspired him. Jonathan Kaplan's 1979 drama is a story of teenage rebellion set against the soulless backdrop of a planned suburban community and features Matt Dillon in his screen debut.
For more info head over to:
http://www.bfi.org.uk/whatson/bfi_southbank/events/bfi_screen_epiphanies_in_partnership_with_american_express_joe_cornish_introduc
ZZACH BRAFF'S ALL NEW PEOPLE PLAY AT THE DUKE OF YORK'S THEATRE
UNTIL 28 APRIL 2012
The dead of winter, Long Beach Island, New Jersey, Charlie (Zach Braff) has hit rock bottom. Away from the rest of the world, this perfect escape is interrupted by a motley parade of misfits who show up and change his plans. A hired beauty, a fireman and an eccentric British real estate agent desperately trying to stay in the country all suddenly find themselves tangled together in a beach house where the mood is anything but sunny.
This angst-fuelled comedy saw New York's Second Stage Theatre packed out nightly and received rave reviews from US critics, with its present day dilemmas and take on four very different characters' way of life.
All New People is on at The Duke Of York's Theatre Until 28 April, 2012
BFI FELLOWSHIP AWARD TO RICHARD LESTER & ROBIN AND MARIAN
The BFI Fellowship, bestowed for outstanding achievement in film and television, will be presented to Richard Lester as part of an on-stage interview. This is the BFI's highest accolade and previous recipients include Martin Scorsese, Isabelle Huppert, Judi Dench and Ridley Scott. Lester is a boldly original director whose films include A Hard Day's Night (1964), Help! (1965) and The Knack... and How to Get It (1965); the latter won the Cannes Grand Prix. Other career highlights include The Three Musketeers (1973) and a cult classic with Spike Milligan, The Bed-Sitting Room (1969). Robin and Marian is a film which has a key place in Richard Lester's career. It boasts a cohort of great actors led by Sean Connery and Audrey Hepburn in the title roles. With a minimum of swashbuckling, the story tells the story of Robin Hood's return from the Crusades to seek out his old love. A delightful and deftly crafted, bittersweet, comic romance for adults.
22 Mar 18:30 NFT1
For more info head over to:
http://www.bfi.org.uk/whatson/bfi_southbank/events/bfi_fellowship_award_to_richard_lester_robin_and_marian
TIM BURTON - THE EXHIBITION IN PARIS
This Tim Burton exhibition is not only exhilarating opportunity to review all his films (including his private short films) but also, a chance to experience a major Tim Burton exhibition designed by the MoMA in New York 2009 and received here this spring, discover his talents as a draftsman, painter, video artist, photographer, inventor of colourful and stunning sculptures.
Video: Tim Burton : Exposition à la Cinémathèque française
With over 700 works on display
Drawings, sculptures (including several original creations of Tim Burton for the exhibition), the large format Polaroids made by the artist props, models, costumes and film clips (feature and short films unpublished).
Related events:
- A retrospective Tim Burton
- Guided tours
- Courses
- Meetings
- Educational workshops ...
- And the exhibition catalog in French in collaboration with MoMA.
From March 7 to August 5, 2012
CALIFORNIA CLASSICS FESTIVAL IS BACK
California Classics brings the sun, sea and Hollywood stars from the shores of California to Britain's cinemas with a season of cult and classic films that link themselves to the Golden State. Starting on 14th March and running every Wednesday for four weeks, California Classics will be taking you to San Francisco, Los Angeles and the lush vineyards of the Santa Barbara wine region with Milk, Bullitt, Chinatown and Sideways.
At each free screening you can indulge in a glass of Californian wine, grab a box of complimentary popcorn and live the whole California experience as you are guided into the cinema by our cheerful usherettes. These screenings take place at a select 6 cinemas across the UK and all tickets are free and allocated via a random draw.
To apply for tickets to these free events, simply visit our Facebook page where you will be asked to submit your name and email address to be entered into the draw.** All tickets will be randomly allocated via an automated system and notifications of whether or not you have been successful will be sent out from one week in advance of the screening.
Starting on 14th March
DAMSELS IN DISTRESS AND WHIT STILLMAN IN CONVERSATION
Whit Stillman's witty, bitter-sweet look at the lives of a quartet of girls who are determined to make their mark at a male-dominated college.
Stillman's long-awaited film (his first since The Last Days of Disco) takes a typically witty, bitter-sweet look at the lives of a quartet of girls who are determined to ring the changes at a depressingly grungy, hitherto boorish and male-dominated East Coast college. As they put their plans into action, they also, inevitably, become involved with various members of the establishment's masculine population, and find both their loyalty to one another and their very sanity coming under threat… A wry comedy of modern tribal manners, characteristically notable for its superb dialogue and fine performances.
11 Apr 18:10 NFT1
ANIME STARS VIC MIGNOGNA AND AARON DISMUKE TO GUEST AT MCM BIRMINGHAM COMIC CON
Mcm Birmingham Comic Con – 31 March-1 April – Nec Birmingham. Fullmetal Stars to Speak Out at Birmingham Comic Con
Brilliant news for UK anime fans as two top anime voice artists are announced as special guests for the MCM Birmingham Comic Con. Vic Mignogna and Aaron Dismuke, best known for voicing Ed. and Al. Elric in hit anime Fullmetal Alchemist, have both been confirmed for the 31 March-1 April show.
As well as playing Ed. Elric, the multi-talented Vic Mignogna has appeared in host of major anime series, from Broly in the Dragon Ball Z films to Ikkaku Madarame in Bleach to Tamaki in Ouran High School Host Club. Other shows featuring Vic include Vampire Knight; Soul Eater; Naruto Shippuden; Hetalia: Axis Powers; Full Metal Panic! and Tsubasa: Reservoir Chronicle.
Aaron Dismuke has been a voice actor since he was nine, taking on roles such as Hiro Sohma in Fruits Basket; Ouri Kagami in Corpse Princess and Leon Elliot in Black Cat. Other anime that Aaron has appeared in include Trinity Blood; Ouran High School Host Club; Big Windup! and YuYu Hakusho.
Aaron and Vic will be meeting fans at the MCM Birmingham Comic Con on the weekend of 31 March - 1 April. The brand new Birmingham Comic Con will run alongside the long-established Memorabilia show at the NEC – there's no need to choose between them, though, as ticket holders for either event will have access to the other show free of charge!
THE LOOK PREVIEW AND QA WITH CHARLOTTE RAMPLING
A biographical documentary exploring actress Charlotte Rampling's life and career. Told through Rampling's own conversations with friends and collaborators including writer Paul Auster, artist Juergen Teller and poet Frederick Seidel, and intercut with footage from her long and diverse career.
The BFI are delighted to welcome Charlotte Rampling to take part in a Q&A following the film.
27 Apr 18:10 NFT1
SCI-FI LONDON PARADE
SCI-FI-LONDON returns to BFI Southbank once again in May, with screenings of shorts, features and documentaries – and this year includes a focus on games and e-sports in the Blue Room. But to kick things off, on Sun 29 April, the SCI-FI-LONDON Costume Parade invites you to dress up as your favourite movie character and parade around the Southbank.
29 Apr 10:00 Blue Room
Full details of the parade and how to grab a golden ticket to the after-party are on the festival's website
sci-fi-london.com
AN EVENING WITH ROBERT REDFORD AND T BONE BURNETT, MODERATED BY NICK HORNBY
Thursday, 26 April 2012 - 7:00PM
Sharing the stage for the first time, Robert Redford and T Bone Burnett will discuss the finely hewn craft of matching music to image. Introduced and interviewed live by British screenwriter and novelist Nick Hornby, they will share their recollections of achieving great musical moments with the many filmmakers, actors and musicians they've collaborated with throughout their storied careers. Hornby will utilise film clips to illustrate some of the many films they've worked on for which music made an indelible contribution, as well as discussing with Redford and Burnett some of their favourite musical moments from other great films that have influenced their work. Music artist to be announced.
JAMES BOND 50TH ANNIVERSARY GALA PHILHARMONIA ORCHESTRA
23 November 2012, 7:30pm
Programme includes music from all of the first 23 Bond films, including Goldfinger, From Russian with Love, Diamonds are Forever, A View to a Kill and Quantum of Solace. Philharmonia Orchestra, Carl Davis conductor, Mary Carewe, Lance Ellington
In this very special event, timed to coincide with the new James Bond film Skyfall, Carl Davis and the Philharmonia Orchestra mark the 50th Anniversary of Bond's first appearance on the silver screen with a night dedicated to 007.
Strictly Come Dancing vocalist Lance Ellington and Mary Carewe bring 23 of Bond's iconic musical scores to life in an evening guaranteed to leave you both shaken and stirred!
The Establishing Shot: Clip of the week - Black Gold - Attack The Tanks
Under the unforgiving desert sky, two warring leaders come face to face. The bodies of their warriors litter the battlefield. The victorious Nesib, Emir of Hobeika (ANTONIO BANDERAS), lays down his peace terms to his rival Amar, Sultan of Salmaah (MARK STRONG). The two men agree that neither may lay claim to the area of no man's land between them called The Yellow Belt. In return and according to the tribal customs of the time, Nesib will "adopt"- or take hostage- Amar's two boys Saleeh (AKIN GAZI) and Auda (TAHAR RAHIM); a guarantee that neither man can invade the other. Years later, Saleeh and Auda have grown into young men. Saleeh, the warrior, itches to escape his gilded cage and return to his father's land. Auda cares only for books and the pursuit of knowledge. One day, their adopted father Nesib is visited by an American oil man from Texas (COREY JOHNSON). He tells the Emir that his land is blessed with oil and promises him riches beyond his imagination.
Black Gold in cinemas 24 February, 2012
Video: The Establishing Shot: Black Gold - Attack The Tanks Clip
The Establishing Shot: Week 8 2012 Film News Round-up
This week on The Establishing Shot: Columbus Circle, The Whistleblower, The Best Exotic Marigold Hotel Review, Nicolas Cage Talks Ghost Rider & Comics With Us, We Analyse The M Picture, The Second Official James Bond Still From Skyfall, Sam Mendes Talks James Bond, Skyfall First Bond Film To Be Released In Imax Format, Ancient Brown Bottle Washes Up On The Shore For The Pirates! In An Adventure With Scientists, The Best Exotic Marigold Hotel, Black Gold, Deviation, One For The Money, Rampart, Safe House, The Adopted, 1911: Revolution, Trailers & Clips, The Making Of Act Of Valour Redband Featurette, Screenwriter Jane Goldman Talks About Adapting The Woman In Black, Pusher Trailer, Blackthorn, Rampart Poster, The Stan Lee Awards Nominations Are In! Let The Voting Commence…, The Oscars: The People's Choice Infographic, Imax Appoints Andrew Cripps President Of Imax Emea, Leicester De Montfort University And Hammer Announce Project To House Hammer's Script Archive At The Cinema And Television History (Cath) Research Centre, Hanks, Streep And Titanic Combine To Make The 'Ultimate' Oscar(R) Film - Sky Movies Hd Poll Unites Pair With Spielberg, Freeman And Dench For The Ultimate Fan Choice, X-Factor's Tulisa Hits A High In The Dvd Charts With Demons Never Die! Imax Statement On Wto Agreement With China, Bfi Shorts 2012 Film-Making Competition Is Now Open, Watershed's Super-Short Filmmaking Competition As Part Of Encounters International Film Festival, The Greatest Short Film Competition Ever - Sci-Fi-London 48 Hour Film Challenge, The Reed.Co.Uk Short Film Competition Is Back, Every Monday The Alibi Film Club, The 2012 Game British Academy Video Games Awards, Hitchcock And Hollywood With Tippi Hedren - Bringing The Great Days Of Hollywood To Life, The Hunger Games To Get It's Uk Premiere At The O2, Director And Writer Joe Cornish Introduces Jonathan Kaplan's 1979 Teenage Rebellion Drama, Featuring Matt Dillon In His Screen Debut, Zach Braff's All New People Play At The Duke Of York's Theatre, Bfi Fellowship Award To Richard Lester & Robin And Marian, Tim Burton - The Exhibition In Paris, California Classics Festival Is Back, Damsels In Distress And Whit Stillman In Conversation, Anime Stars Vic Mignogna And Aaron Dismuke To Guest At Mcm Birmingham Comic Con, The Look Preview And Qa With Charlotte Rampling, Sci-Fi London Parade, An Evening With Robert Redford And T Bone Burnett, Moderated By Nick Hornby, James Bond 50th Anniversary Gala Philharmonia Orchestra, Film Pic Of The Week: Ghost Rider Spirit Of Vengeance, Black Gold - Attack The Tanks Clip