---
2010s,
The Establishing Shot: Jo Nesbo's Headhunters Review – HEADHUNTERS IS IN MY TOP 3 FILMS OF 2012 SO FAR
T
his Friday sees the release of
Jo Nesbo
's darkly delicious
Headhunters
and whilst I may have been fairly quiet about it I have already had the pleasure of seeing
Headhunters
twice. Once to watch it and the second time to share this gem with my wife - who enjoys clever crime stories.
I loved
Headhunters
and it is easy to see why it has been winning over audiences and prompted
Mark Wahlberg
to say
Headhunters
is the best film he's seen in a long time and that he'd love to be part of the Hollywood remake
-
it is an original (oh the irony) and absolutely delicious slice of black humour that whilst not taking itself too seriously, is seriously suspenseful. It has all the hallmarks (& some of the weaknesses) of a timeless cult classic that compels you to keep your eyes on the screen in disbelief as it takes you on an unpredictable joy ride. It is worth noting that although I call
Headhunters
a Cult film – which may conjure certain connotations, amongst them: serving a niche audience, which I don't think is entirely the case with
Headhunters
as it is an intricate crime film that should entertain any adult audience.
You can't travel in London with out seeing either a
Headhunters
poster or an advert for
Jo Nesbo
's books but in all fairness when I went along to see
Headhunters
I wasn't familiar with either. My interest was however piqued as
Jo Nesbo
the author of
Headhunters
is a Norwegian crime writer with a string of successful book hits, who was also a rock star and a stock broker. Coming across as a real life Buckaroo Banzai I was keen to see more of the world of
Jo Nesbo
and the big screen adaptation of his
Headhunters
.

Video: The Establishing Shot: Headhunters Official UK trailer in English
The charismatic Roger Brown (
Aksel Hennie
), a successful corporate headhunter by day and prolific art thief by night, is lured into a dangerous game of cat and mouse when he goes after the biggest heist of his life.
J
o Nesbo
's
Headhunters
is the best-selling author's first novel to be adapted for film.Directed by
Morten Tyldum
(
What Happened To Monday
) and produced by Yellow Bird, the production company behind the phenomenally successful
Millennium trilogy
and
Wallander
,
Headhunters
also stars
Nikolaj Coster-Waldau
(
Game Of Thrones
,
Mama
) and
Synnove Macody Lund
.
I fear I say too much in this piece and I'm trying not to give too much away as much of the magic of
Headhunters
are the marvellous twists and turns that the very capable
Morten Tyldum
leads you down. In many regards
Headhunters
plays out like a classic triangle story with devious twists, devices and interesting characters that never quite let you get a handle on things or the direction it might go in next.
In
Headhunters
Director
Morten Tyldum
introduces us to
Roger Brown
, wonderfully played by
Aksel Hennie
who switches between charismatic professional to knife wielding desperado in seconds. Roger is a successful high profile corporate recruitment agent who is at the top of his game. For all for all intents and purposes his character plays on the stereotypical view we have of Nordic people - He lives in a steel & glass designer home & surrounds himself with white, clinical designer goods and people. Including his tall, blonde and beautiful wife Diana Brown, an art gallery owner played by even more beautiful in real life
Synnøve Macody Lund
.
Image: Headhunters Aksel Hennie as Roger Brown
But underneath the shiny Ikea veneer of Roger's world there is an underworld, one in which Roger Brown sneaks around as a fairly despicable character fraught with insecurities and hanging onto his successful lifestyle (and wife) by his finger nails, by moonlighting as an art thief. Roger reveals himself to not only be a master of corporate psychology but a highly proficient thief dealing in underhanded activities with both skill and aplomb.
So on one side of the triangle we have Roger Brown adept at reading people and situations with genius like capability, who is also very resourceful.
Before I continue – as someone I was discussing Headhunters with queried - a Norwegian called Roger Brown? Rest assured I investigated this further in discussion with lead actor Aksel Hennie at the Jameson Cult Film screening of Headhunters and I have answers which can be found here!
In the middle of the triangle we have Diana Brown, Roger's gorgeous wife and as Roger points out Diana is accustomed to, and expects certain things without effort. Not only is Diana at the crux of Roger's motivations and the heart of his insecurities but plays pivotal role in events as they roll out in the story.
Image: Headhunters Synnove Macody Lund as Diana Brown
Bridging us to the authorities closing in on Roger and the third side of the triangle - Clas Greve played by none other than
Nikolaj Coster-Waldau
. Jaime Lannister of
Game of Thrones
and who can also currently be seen in the marvellous Western
Blackthorn
.
Clas Greve is an ex mercenary who stops at nothing to get his man. So on the other side of the triangle we have an ex Special Forces military man with a murky but blood stained military background.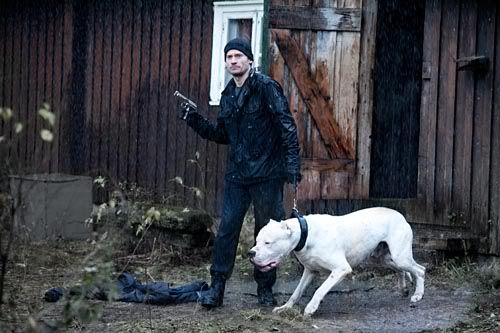 Image: Headhunters
Nikolaj Coster-Waldau as
Clas Greve
As well as the twisted narrative, some of the magic of
Headhunters
is the engaging characters - in a similar way that
Guy Ritchie
extrapolates characteristics that allow his performers to hang personality traits on, Director
Morten Tyldum
keeps the characters fresh and very personable with out overplaying their hands. It really helps that the cast all deliver great performances. Particularly
Eivind Sander
as Ove Kjikerud one of Roger's accomplices, he steals almost every scene he is in. But the bulk of the heavy lifting comes down to the triangle and their interplay;
Aksel Hennie
,
Synnøve Macody Lund
and
Nikolaj Coster-Waldau
.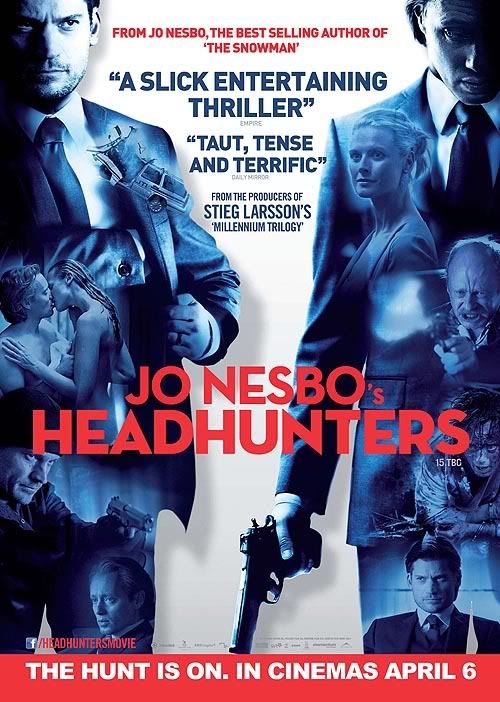 Image: Jo Nesbo's Headhunters Poster
Especially the two opposing forces with their contrasting characters - Roger is short, fraught with insecurities but a polished corporate animal.
Whilst Clas is tall, good looking and despite corporate success - blunt and a little rough around the edges. A veteran of the good fight specialising in outdoor survival particularly in inhospitable regions often against military trained terrorists. He will stop at nothing to get his man.
So the scene is set for a showdown. What follows is an hour and 40 minutes half of twisty turns that will keep you on the edge of your seat as you second guess every move, whilst grimacing at the gore, cringing at some genuinely gross scenarios and laughing out loud at some hilarious tension deflating humour. Like me you may find yourself laughing & cringing at the same time.
Earlier on I said that
Headhunters
has all the strengths and weaknesses of a classic Cult film – I felt some of the narrative devices were a little frustrating and some relationship dynamics are glossed over in favour of moving the story along. But rather than a failing in the film, as I'm sure in the book I'm sure the rationale in is exposed - I think it comes down to cultural nuances that don't translate. But like all good Cult films this makes
Headhunters
even more unhinged and all the better for it as it is a 90 minute all out slick & bloody fun ride.
Headhunters release date: 6 April, 2012
For more info head over to:
https://www.facebook.com/HeadhuntersMovie
Headhunters
(Hodejegerne)
An accomplished headhunter risks everything to obtain a valuable painting owned by a former mercenary.
Director: Morten Tyldum
Writers: Lars Gudmestad, Ulf Ryberg and Jo Nesbø
Stars: Aksel Hennie, Synnøve Macody Lund and Nikolaj Coster-Waldau
THE ESTABLISHING SHOT: JO NESBO'S HEADHUNTERS REVIEW – HEADHUNTERS IS IN MY TOP 3 OF FILMS OF 2012 SO FAR