---
Art Exhibition,
Lord Puttnam talks film poster design at the FDA State Of The Art Cinema Poster Exhibition - EVENT REPORT
Y
esterday during lunch I had the pleasure of going along to the
FDA State of the Art Cinema Poster
Exhibition in Soho. To be honest the draw for me was the opportunity to hear ex - Producer
Lord Puttnam
talk about his experiences of film advertising over his vast career.
Coming from an advertising background, an original British Mad Man if you will, before producing some of the best films to come out of Britain (
Bugsy Malone
,
The Duellists
,
Midnight Express
,
Chariots of Fire
,
The Killing Fields
to name a few) before eventually turning his hand to a top level career in public policy as well as sitting on many boards including Presidency of the
Film Distributors Association
.
Before introducing
Lord Puttnam
to the stage,
Mark Batey
Chief Executive, Film Distributors' Association let us know that 2013 has been a bumper year for UK cinema so far with over 65,000,000 visits to cinemas already to 275 releases, that is almost 1 visit for every person in the entire UK and without the Olympics is expected to be even bigger.
During his talk
Lord Puttnam
discussed the challenges of creating compelling film art, his experiences as an ad man including the the highs of the wins and the lows of disillusionment with the rote and formulaic approach required by film companies, the limiting size formats for film advertising and adherence to stringent standards of decency as well as working to a 10% of film cost advertising budget (across every film) - which led to British film languishing in comparison to the US market.
How after British cinema stunned with their beautiful artwork Britain fell in into the doldrums of film art design during the 70-90s whilst the French and Japanese blazed away with simple and beautiful design. As well as how the digital revolution is creating opportunities for creatively.
The Establishing Shot: THE FDA STATE OF THE ART CINEMA POSTER EXHIBITION, a photo by Craig Grobler on Flickr.
Film companies offered very flexibility in the tried and tested ad format that required the names of the stars being prominent, each side of an image, an image easily replicable across different sizes and formats and a box along the bottom with the people who had made the film. Puttnam also told us many great anecdotal tales that had us chuckling.
For more information on the State of the Art Exhibition and insight into poster art head over here :
http://www.moviepreviewnetwork.com/state-of-the-art-read
and click the link to download the official State of the Art Cinema Exhibition booklet.
I was fortunate to ask
Lord Puttnam
a couple of couple of questions before he had to head off.
Craig Grobler: Lord Puttnam, from your own films which of the poster art is your favourite?
Lord Puttnam:
One of my favourite posters is the British poster for
Local Hero
. It's a man in a suit, rather like mine with a briefcase standing in water and a telephone box as well as various elements from the film - but it was intriguing.
Local Hero UK Film Poster
When we took the film to the US we weren't allowed to use the poster unless we incorporated
Burt Lancaster
as he was the star of the film and why on earth would you not show the star of the film? So Burt was painted in, in the water with his trousers rolled up as well. I like that poster very much indeed.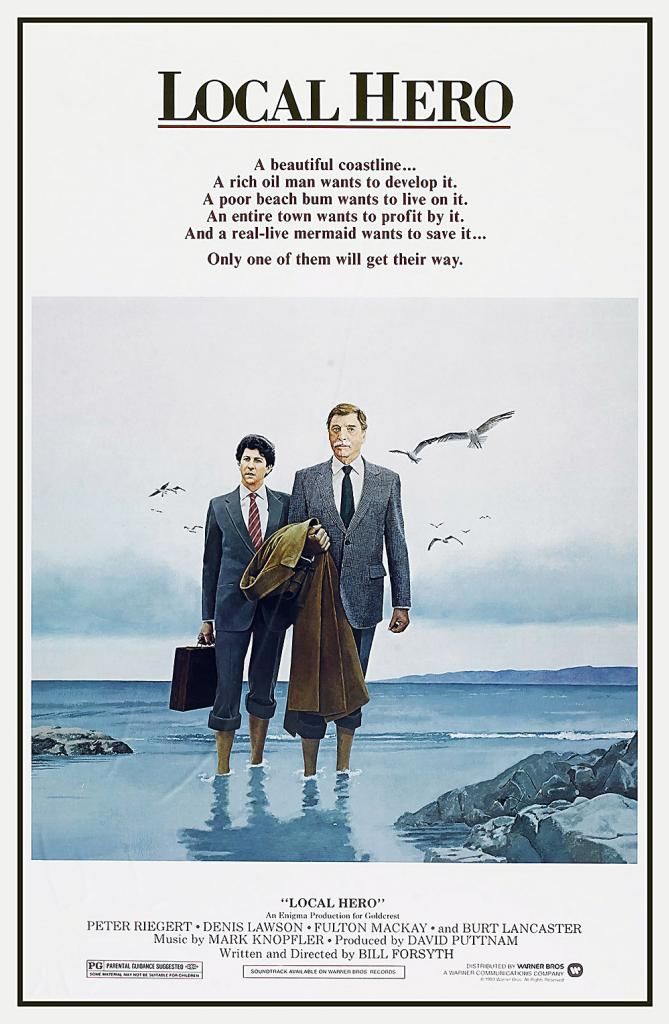 Local Hero US Film Poster (Click to enlarge)
The original
John Gorham
poster for
Chariots of Fire
, which if you can get one, now changes hands for over a £1000 is a beautiful poster.
John Gorham
also was a renowned British designer that amongst his work also created the titles for
Chariots of Fire
as well as the artwork for
Bugsy Malone
,
The Mission
,
Fame
,
Greystoke
,
Local Hero
and
Cal
.
Chariots Of Fire Film Poster John Gorham
I am unsure if John Gorham also designed the gorgeous Chariots of Fire poster below.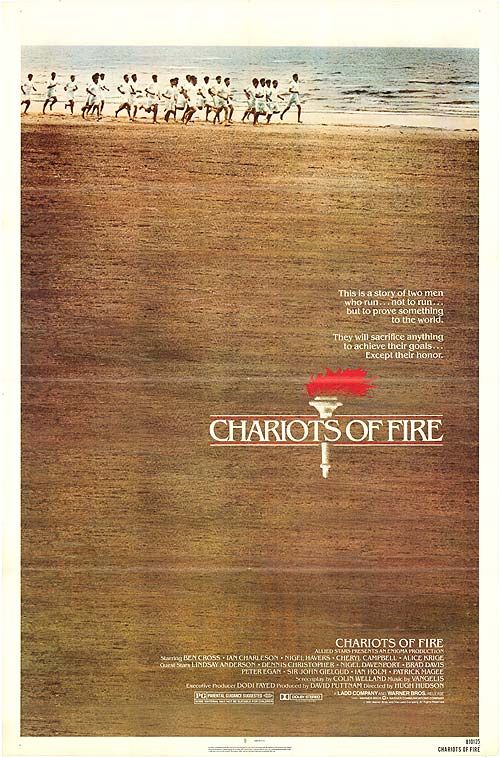 Chariots Of Fire Poster
I did a film a long time ago called
James Dean: The First American Teenager
which had a magnificent poster.
James Dean The First American Teenager Film Poster
A poster that won a lot of awards wasn't even a film, but made for TV.
John Gorham
designed a poster for me for
Red Monarch
, which is referenced in many design books. It is a straightforward classic image of Joseph Stalin but with a red tomato smack on his nose.
Red Monarch Film Poster John Gorham
Not many people dared but we made a comedy about Stalin and it has a brilliant poster. If the movie had been as good as the poster I would be a very rich man.
Craig Grobler: Which posters stand out to you from recent films?
Lord Puttnam:
I thought the the poster for the re-release of
Chariots of Fire
was pretty good. I would be lying to you if I said that anything had knocked my socks off lately. Bit a couple of years ago I was on an Awards Jury and the awards tended to go to people that had thought laterally how to promote a film over and above the image created.
Craig Grobler: Why did you retire or slow down from film making?
Lord Puttnam:
Slowed down? Try tell my wife that. Really it's quiet simple- film audiences are remorselessly 16 - 22 and I was remorselessly in my 50s and there was no way back.
So the gap between you and the audience is growing all the time. I never believe you could do good work trying to think your way into the heads of audiences whose concerns, ambitions and dreams you don't necessarily share – it's very tough. And as I looked forward, it was a very important moment in my life I was 55 and the future didn't look exciting as the past and it just seemed like a good time to go.
Interestingly enough I didn't tell anyone I was going I just went. I think it was about 4 years later when I went to BAFTA to give a lecture I mentioned by the way I retired.
I think that was the right way to do it and I'll tell you why, the question you just asked - today people ask why did you go? I promise you if I stayed another 5 years no one would ever asked me that question. So I knew it was the right thing to do.
State of the Art Cinema
State of the Art Cinema is an exhibition of movie posters from Summer 2013 movies, its presented in six broad, often overlapping genre's. The Exhibition will be in London through June and July. The exhibition features contemporary poster design and photography supporting a broad spread of new releases. The deliciously eclectic line-up from now through to September 2013 encompasses productions shot all over the world by emerging and well established film makers.
There is more information on the FDA site here:
http://www.moviepreviewnetwork.com/state-of-the-art
The State of the Art Cinema Exhibition is free and open to the public in London:
Monday 3 - Sunday 9 June 2013
Getty Images Gallery
46 Eastcastle Street, London W1W 8DX
Nearest tube: Oxford Circus station
Monday 8 - Saturday 13 July 2013
Hoxton Arches Gallery
402 Cremer Street, London, E2 8HD
Nearest station: Hoxton overground station/Liverpool Street station/Shoreditch High Street overground
Tuesday 30 July – Saturday 3 August
The Gallery in Cork Street
28 Cork Street, London W1S 3NG
Open 11.00am-6.00pm daily (Saturday until 4.00pm)
Nearest tube: Bond Street/ Piccadilly Circus
Film Distributors' Association :
http://www.launchingfilms.com/
Lord Puttnam's website:
http://www.davidputtnam.com/
The Establishing Shot: LORD PUTTNAM TALKS FILM POSTER DESIGN AT THE FDA STATE OF THE ART CINEMA POSTER EXHIBITION - EVENT REPORT
C

raig is a

retired superhero, an

obsessive hobbyist, comics fan, gadget lover & flâneur who knows an unhealthy amount about Ian Fleming's James Bond.





When not watching or making films he takes pictures, eats, drinks, dives, tries to connect to nature whilst mentally storyboarding the greatest film ever made. He also & sometimes

utilises owl-themed gadgets to fight crime.





A list of his 133 favourite films can be found here!

If you would still like to contact Craig please use any of the buttons below: