---
007,
The Establishing Shot: We analyse the Skyfall Teaser Trailer - THAT'S HOW YOU MAKE A TEASER TRAILER
W
ith 5 months to go till Sony's
Skyfall
is in cinemas, the first signs of motion picture action from
Skyfall
arrived yesterday in the form of a 1 minute 15 second teaser trailer - and blimey has it been worth the wait - as it doesn't disappoint with James Bond exploding into action for the 23rd time.
Before I get into my thoughts about the trailer I have to say
Sam Mendes
makes it look very easy to make a decent teaser trailer. Start with an engaging personal scene, tease us with exciting visuals and sounds, show a mysterious figure (but not too much) and end with clean and simple dialogue that sets the tone of what to expect whilst raising Bond to where he should be - ruthless and very dangerous when prodded with a stick. All coming together in a tight little package leaving us hanging for more.
This spectacular teaser trailer makes me sad for all the rest as the Bond team again prove nobody does it better and this teaser trailer sets the bar. But what exactly does the teaser trailer tell us apart from: we can expect one cool and suave Bond, some astoundingly beautiful visuals and lighting (that leave the Bond novelty factor behind as we are given some serious gravitas) and this all leading to the almost familiar strains of the Bond theme at the end teasing us?
Skyfall!
Teaser trailer! Job done!
Video: Establishing Shot: Skyfall Teaser Trailer in HD
00:05
We open up on a warmly dressed James Bond (
Daniel Craig
) high above the streets and part of the London skyline, with the sun setting behind Big Ben. Big Ben is possibly one of the greatest and most used Establishing Shots for any film set in the city of London. But this angle or view has not been seen before.
Bond is atop the Department of Energy & Climate Change (DECC) and Dept for Environment, Food & Rural Affairs (DEFRA) building on Whitehall looking East over the Ministry of Defence (Old War Office Building) with the watch towers and the Ministry of Defence (Main Building) with the flags towards the Palace of Westminster and Big Ben. This is not only the heart of Britain's strategic homeland defence but very recognisable symbols of the United Kingdom.
To nail the point home we hear in voice over -
Query: Country?
And Bond responding with: England.
With this Establishing shot
Sam Mendes
is letting us know that Bond is above the city and like a lone guardian surveying his or rather HM's realm and that
Skyfall
will be bringing Bond home and that trouble is coming knocking on his door threatening not some far flung location but his home. This signals a change in the formulaic direction Bond seems to have been sliding back into with
Quantum of Solace
and is more in line with the reboot that
Casino Royale
promised.
All of the above and let's not forget Bond is up there, not just to look cool and suave he is obviously keeping a watch out for someone or something.
The Old War Office directly in front of Bond has actually been used as the location of James Bond's office in a number of Bond films including;
Octopussy
,
A View to a Kill
and
Licence to Kill
.
00:09
We see the lone figure of Bond jogging through a chilly Hyde Park under the weight of the sky again reinforcing that Bond is out in the cold, at least emotionally. Again both Hyde Park and the BT Tower seen in the background symbols of England. I for one or over the moon that after years of being used as scenery passing by outside Bond's car window, London has taken a much bigger role in the Bond mythos.
This scene is also memorable as I think this is the first time we actually see James Bond exercising to maintain his physical edge, past, the recreational sports he often undertakes on screen. This is a harder Bond. Or could this be part of a therapeutic recovery programme. Also I have to say it is pretty cool seeing Bond on his home ground.
It has now become apparent that the voice over dialogue is a word association game and Bond may be on the receiving end of some sort of fit for work assessment. To be honest given his rebellious actions in both
Casino Royale
and
Quantum of Solace
this is no surprise and an inevitable consequence of his actions but could there be more to this?
00:14
We are in some sort of gritty training facility. We see a buffed Bond silhouetted in a doorway of a locker room, flexing his shooting arm after therapy or a workout. He seems to be recovering from a physical injury and a little unsteady or at least unsure of himself.
00:15
Still in an underground training facility, this time in a shooting range we see a target at medium range – at least 2 of the gun shots that have marked the target are very wide. Confirming that Bond may not be in the best of shape.
00:15
Whoa! It is finally revealed that indeed Bond is being psychologically assessed as he sits dressed in what we assume is standard SIS training gear, across a table from an assessor in a clinical white tiled MI6 Psyche Lab probably an underground MI6 bunker watched by; M (
Dame Judi Dench
) Head of MI6), an unidentified man and Bill Tanner (
Rory Kinnear
) M's Chief of Staff and trusted aide.
- Smithfield Meat Market
00:15
We are on the other side of the table now, close enough to see a subtle smirk on Bond's face – he isn't taking all this head shrinking stuff too seriously. And who can fault him? As we can see that it is a quarter to six in the evening and Bond would usually be getting ready to hone his card skills down at the St James Casino.
Oddly the clock reflection in the one way mirror has just past 6 o'clock. Military code for "got your back" and it is in the exact position where M is standing. If I'm not reading too much into this - the undertones of betrayal of Bond's loyalty are being hinted at here.
Psychological assessor: "
Skyfall"
Instantly the smirk is gone, Bond po-faced as he stares half blankly and half with intent at the assessor. A long pause - with something stirring beneath his silence only interrupted by a boom as Bond has a flashback causing his bottom lip to almost imperceivabley drop.
00:22
In his flashback we see a darkened living room lit by shafts of light coming through shutters – the room looks like it may have been either ransacked or damaged in a struggle. In a chair we see a slumped body whilst a silhouetted figure holds a gun aiming it in the direction of the crumpled body but is actually aiming into the open door behind it.
Image: Skyfall James Bond Skyfall flashback revealed (click to enlarge)
The mystery of
Skyfall
deepens. Who is the man in the chair? Is he a victim, or another victim of Bond? This has obviously had a major affect on Bond. Is this part of a recent event post
Casino Royale
&
Quantum of Solace
that has brought Bond's physical and mental state into question? As
Barbara Broccoli
has said - that the series "will go on to other different stories from now on." This would be a completely new event in Bond's life. More thoughts about Bond'
Skyfall
flashback a little later…
00:25
We see the three figures watching Bond's assessment where it is revealed that the third man is Gareth Mallory (
Ralph Fiennes
) and judging by the reactions in the room Bond's assessment is not going well. Tanner drops his eyes; Mallory turns to M with seeming confirmation of his pre-conceived thoughts whilst M's intensity increases as she continues looking for further signs from Bond.
The assessor repeats:
Skyfall
Bond ends the session with: Done
Not much is known about Gareth Mallory at this stage other than he is a Government man, presumably for working for MI6 and senior. Judging by the official still released awhile back he is not afraid of mixing it up and getting involved in field agent work.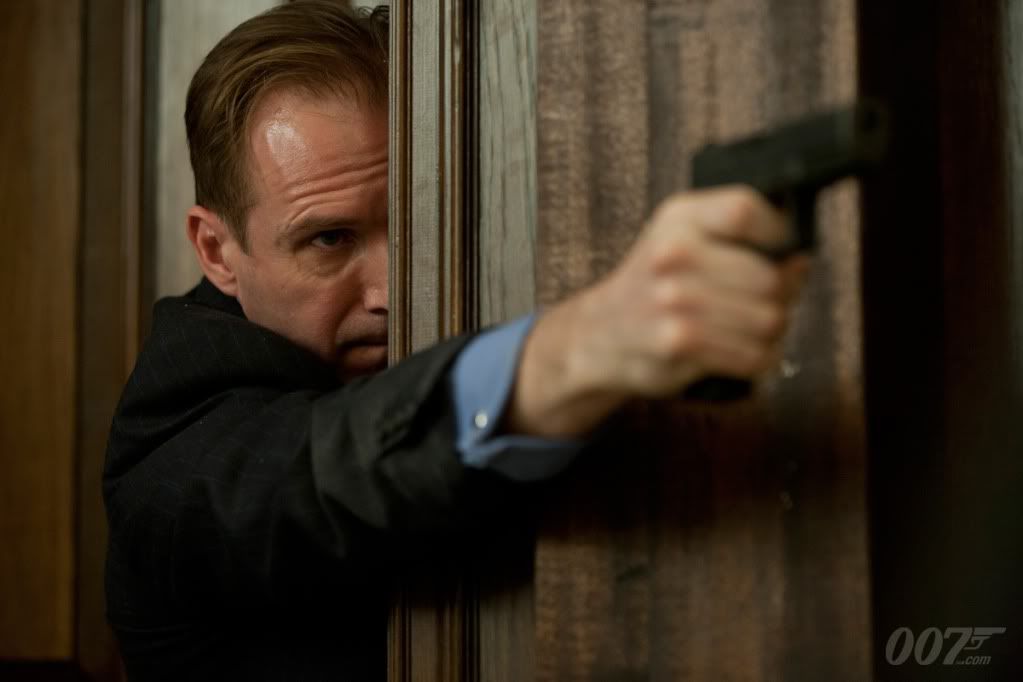 Image: Skyfall Gareth Mallory (Ralph Fiennes) bringing not afraid to get his hands dirty (Click to enlarge)
OK! now that Mallory has been introduced I conclude my thoughts on Bond's
Skyfall
flashback ....or are these old memories being addressed? Possibly contributing to his attitude throughout
Casino Royale
&
Quantum
? A closer look reveals that although the man is holding the distinctively shaped Walther PPK he may not actually be Bond, despite the silhouette hunching slightly with knees bent to reduce his height, the body shape is all wrong and this silhouette looks a lot more like Gareth Mallory or the least convincing body double since
Lee Pulford
in
Blade Runner
.
00:31
Bond stands up and leaves, glaring at M through the one way mirror. The dirtiness of the spy being spied upon by stifling the scene.
00:33
The action moves to a lit up Shanghai cityscape at night
00:35
We see Sévérine (
Bérénice Marlohe
) standing in what looks to be a hotel room high above ground level. In a brilliantly framed shot reminiscent of the Ricki Tarr – Boris - Belinda -
Tinker, Tailor, Soldier, Spy
voyeur scene of the hotel room in Istanbul. However Sévérine's windows all been shot out and her hair & curtains are billowing in the wind whilst broken glass covers the floor.
Sévérine stares at our window - from our POV we can blue neon reflections on the inside of the window. From earlier official stills we know Bond is hiding just to the right of our sight.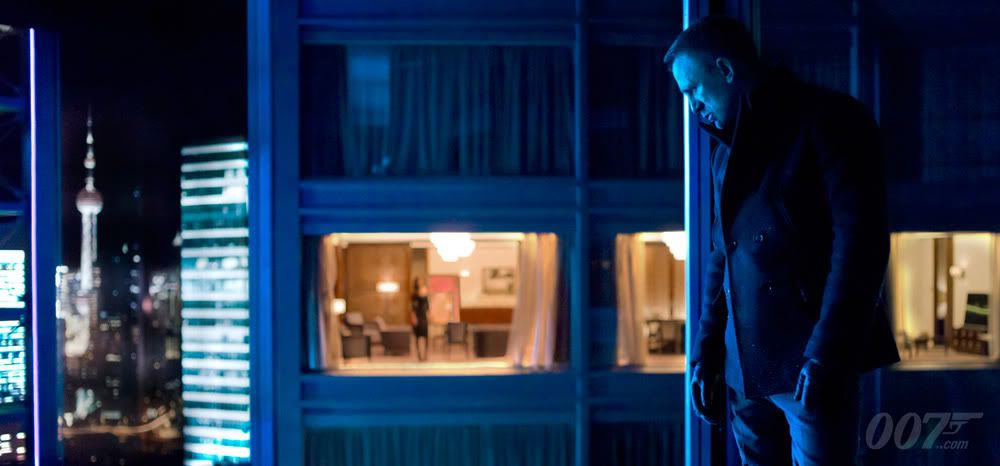 Image: Skyfall James Bond in Shanghai foils a sniper attempt on Sévérine (Bérénice Marlohe) (Click to enlarge)
This is the neon lit Shanghai Tower that we saw in the first official still from
Skyfall
and previous videos showing Bond stalking a sniper in the neon lit Blue Optic Communications office. This scene must lead on from Bond in the bar and even earlier chase/follow scene that includes the Yan'an Highway (Yan'an Elevated Road) when Bond's arrives in Shanghai following someone, possibly Patrice (
Ola Rapace
) who arrived at the same time in Shanghai.
00:36
Presumably back in London a dusty Bond explodes into action firing his Walther at unseen assailants. The room around Bond seems shot up and he is not alone as we see another shooter to his right. This seems to be the same location that Gareth Mallory is seeing handling a pistol.
Image: Skyfall James Bond (Daniel Craig) exploding into action with his Walther PPK (Click to enlarge)
00:38
Eight Union Jack draped coffins with a grim M at the end of the room. The toll weighing heavily on her. Presumably these are MI6 agents and Bond's colleagues or at least men who have died in service of their country.
00:40
Back to China presumably Macau, where Bond enters the dragon's mouth. It doesn't tell us much but it is incredibly beautifully shot and lit. Bond is wearing a tuxedo; presumably he is heading for a night out - casino maybe? As he did the last time he was in Macau in
The Man With The Golden Gun
.
00:41
Bond receiving a shave from fellow agent Eve (
Naomie Harris
) presumably this is at the end of his recovery and the removal of his stubble signals he is going back into action after being nursed by Eve. It would appear that Bond hasn't learnt anything and continues to eat where he shouldn't. I can only surmise that as Eve thinks she's like James bond and that she has hooked up with him - it ends badly for her.
00:43
A dusty Bond bolting up Whitehall amongst the traffic there are many emergency service vehicles. And he looks pissed off.
00:45
Bond falling into very turbulent water.
00:46
Bond armed with a Heckler & Koch HK416 assault rifle seemingly protecting a Scottish looking couple, in the door way of a chapel, as he reacts to either gunfire hitting the walls next to him or a blast.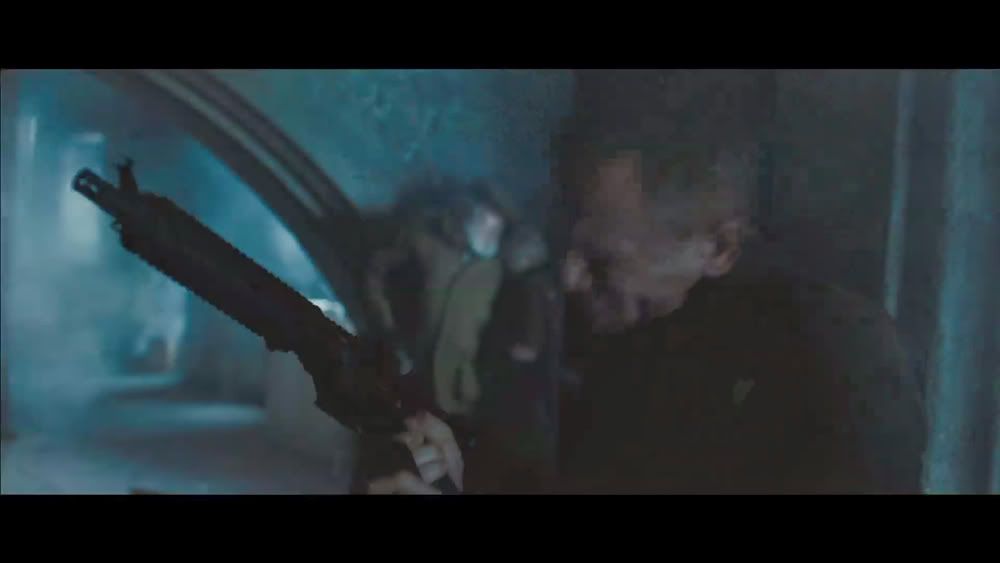 Image: Skyfall James Bond and couple in the Scottish Chapel
Image: Skyfall James Bond firing his Heckler & Koch HK416 assault rifle (click to enlarge)
00:46
A Westland Merlin helicopter coming in with a huge gun, presumably part of the attack Bond is under.
00:48
Bond running with his HK416 through what looks like a rather large dining room that is being shredded by the Merlin Helicopter gun ship.
00:49
A dark silhouette falling down a great height. This seems to be a skyscraper in Shanghai. No wires are visible so I'm guessing that there is a good chance that this is Patrice meeting his demise.
00:51
M and Bond parked by the side of the road in a scene echoing the opening of the teaser, with Bond looking over the Scottish Highlands. Are they looking towards Bond's ancestral home? Two things strike me in this picture Bond's suit looks dusty, like when he was running around London. Does this mean that M and Bond drove all night straight from London here? Or that the light is playing tricks on my eyes?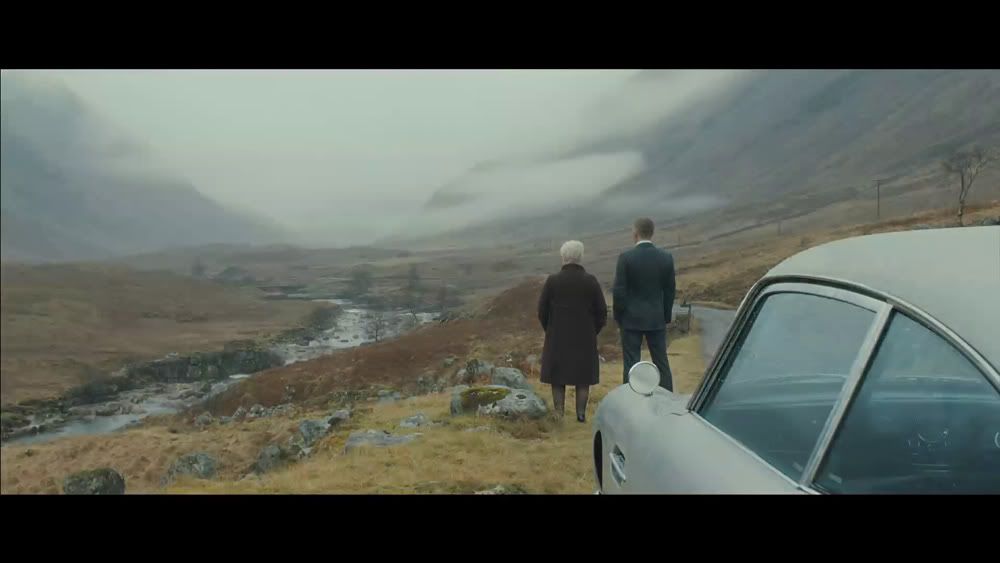 Image: M and James Bond take a day to visit Scotland
The other thing more that I notice is that M's jacket looks remarkably similar to the jacket worn by the lady (of the same height as M) that Bond seems to be protecting in the earlier scene in the chapel entrance.
00:53
A train smashes through the underground walls. At first look this would seem part of a villainous plot to use London's transport system as a weapon as hinted at in the
Skyfall
teaser poster where the iconic inside of the gun barrel seems to echo a tube tunnel.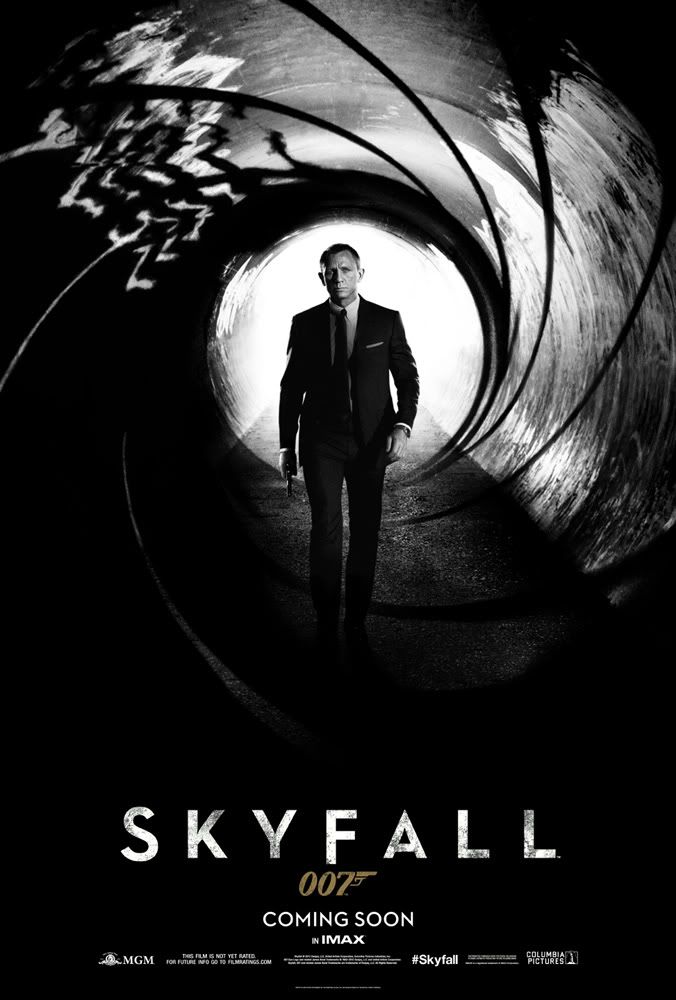 Image: Skyfall Poster (Click to enlarge)
But the room the train is crashing into, is of a similar interior design to the secret underground MI6 Bunker as seen in the production videos, and need I remind you
Dame Judi Dench
referred to the first set as being "absolutely vast an like a train station down there". Has London's transport system been used to attack the Government?
00:55
Bond walks down a darkened corridor to reveal himself at the end. This looks to be the same interior design as the room in his flashback. Is this where James Bond sees the events in his flashback and the secret of Skyfall is revealed?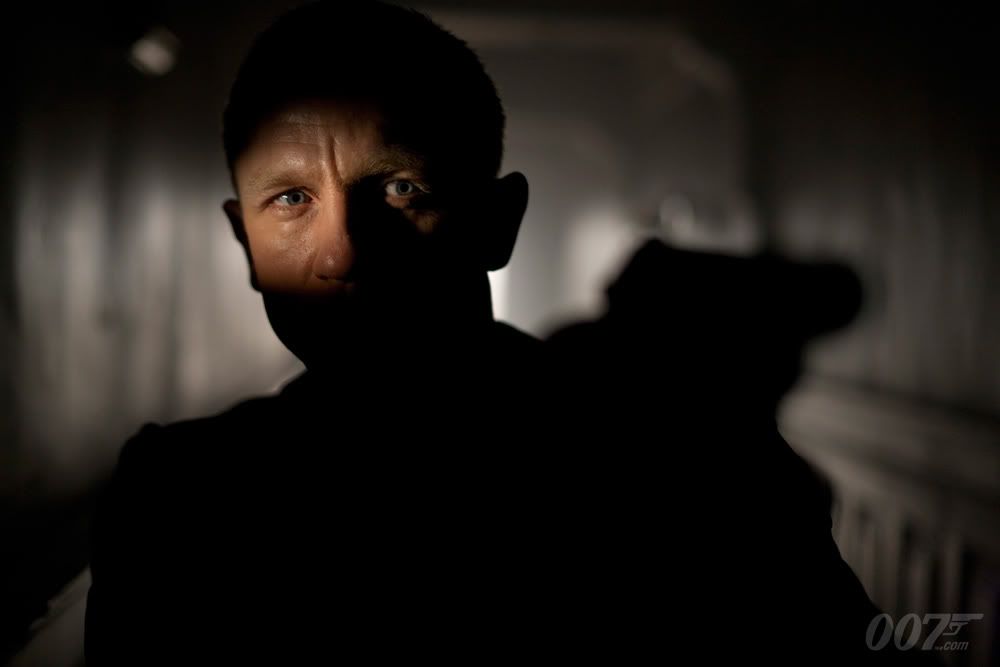 Image: Skyfall James Bond (Daniel Craig) is in the dark about Skyfall
00:57
No time to think about it as a dark Keyser Soze looking figure is walking away from a destroyed building still in flames. Our first partial glimpse of villain Silva (
Javier Bardem
).
01:02
Written in a style letting us know things are going to get gritty and dirty, very dirty.
01:03
Back to Blue Optic Communications in Shanghai, bathed in the blue neon we see a man in a similar fashion to Scaramanga's Golden Gun from
The Man with the Golden Gun
building a boxy modular gun. Initially I thought this may be an updated Signature gun but it looks more to be a modified submachine and judging by the site on the gun it has medium range sniper capability. As the camera pulls back we see that this is Patrice (
Ola Rapace
).
So I'm guessing Patrice is responsible for shooting out Sévérine (
Bérénice Marlohe
) windows. I'm guessing he was aiming at Sévérine and the windows got in the way. But before Patrice completes his mission Bond exercises his double licence which ends with Patrice been thrown off the skyscraper.
01:06
Bond seems to be talking to M, judging by his eye line height and the grey hair on the edge of the frame.
Bond has identified a problem: Some men are coming to kill us
But not to worry as he has a solution: We're going to kill them first.
Simple, blunt and taking it head on. Is there anything about this Bond that is not to like?
01:06
Bond and Patrice (
Ola Rapace
) slugging it out in the offices of Blue Optic Communications in Shanghai.
01:07
The Scottish pile being blown up, bodies are strewn on the ground.
01:07
Bond running down a tunnel as the flames from an explosion chases him. Could this be how Bond escapes the attack on the Scottish home? If so, where are the two people he was protecting?
01:08
Bond lifting his Walther and firing in the sunlight. This looks to be Istanbul.
01:08
Volkswagen Beetles been off loaded from a train mid journey again this looks like Istanbul. It looks like they are being offloaded to hinder the chasing 4x4 vehicle obscured by the Beetles and dust. I'm guessing Eve (
Naomie Harris
) is driving the 4x4 trying to catch up to Bond.
Image: Skyfall Eve
(
Naomie Harris
) driving a 4x4 & shooting in
Skyfall (click to enlarge)
01:09 UPDATE
A tuxedo wearing Bond fighting an oriental goon. Presumably this is what happens after he has entered the dragon's mouth at the Macau casino.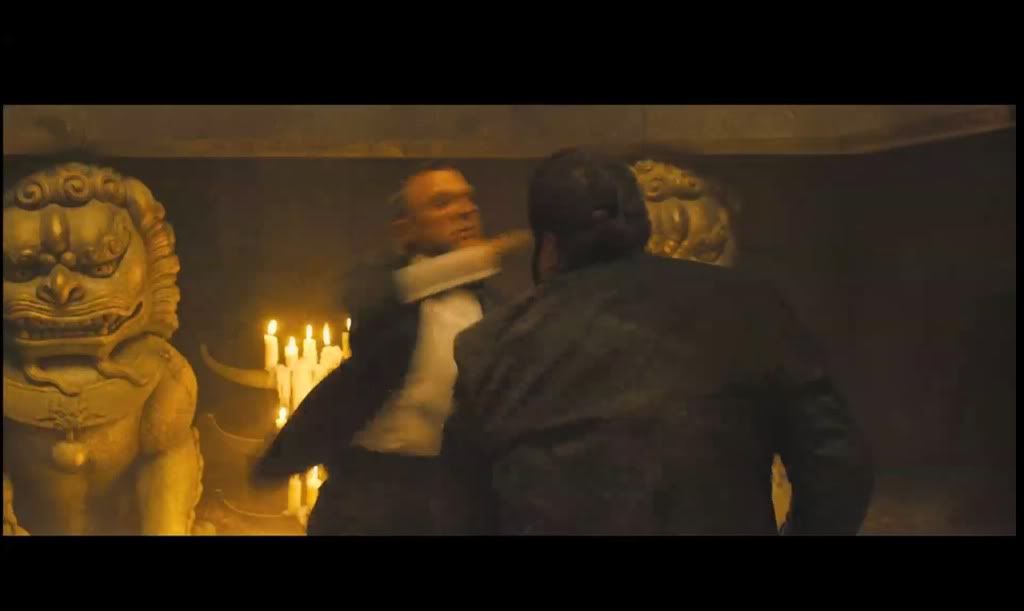 Image: Skyfall James Bond Macau casino fight (click to enlarge)
One of our special friends across the ocean queried the above scene, which led me to discover that the International teaser trailer had a different scene in place of the Macau casino fight.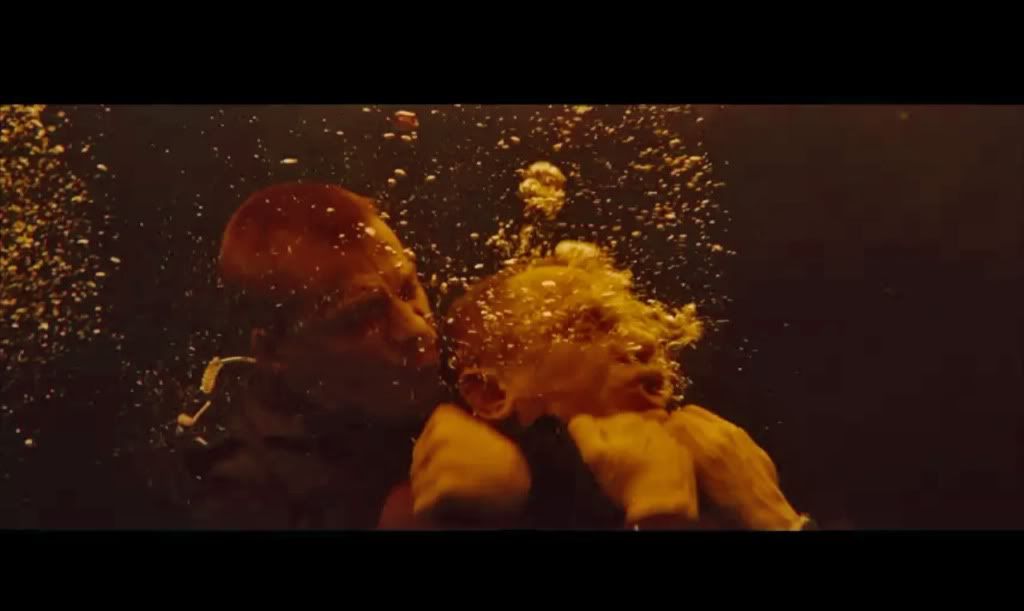 Image: Skyfall James Bond underwater fight (click to enlarge)
The international teaser trailer has James Bond in an underwater grapple with a foreign military man judging by the epaulettes on the guys shoulder.
01:09
Bond and his motorbike ramping off a bridge to catch a train. Presumably in Istanbul and as part of a motorbike chase with Patrice. If this is correct the event in Shanghai take place after Istanbul.
Image: Skyfall Patrice (Ola Rapace) James Bond Motorbike chase in Istanbul
01:09
Bond stalking Patrice (
Ola Rapace
) at the Blue Optic Communications offices in Shanghai.
01:10
007
01:12
Skyfall in IMAX October 28 #skyfall
01:16
The Establishing Shot frantically googling
Skyfall
IMAX tickets
SKYFALL opens at cinemas across the UK on 26th October 2012
In SKYFALL, Bond's loyalty to M is tested as her past comes back to haunt her. As MI6 comes under attack, 007 must track down and destroy the threat, no matter how personal the cost.
SKYFALL, from Albert R Broccoli's EON Productions, Metro-Goldwyn-Mayer Studios, and Sony Pictures Entertainment, is directed by Academy Award® winner Sam Mendes and stars Daniel Craig, who returns for his third film as Ian Fleming's James Bond 007.
Joining Daniel Craig the cast includes Javier Bardem, Ralph Fiennes, Berenice Marlohe, Naomie Harris, Ben Whishaw with Albert Finney and Judi Dench as M. The screenplay is written by Neal Purvis & Robert Wade and John Logan. SKYFALL will begin its worldwide roll-out later this year in the UK and Ireland on October 26th and in North America on November 9th.
"We're so delighted to have Sam Mendes direct SKYFALL and be working once again with Daniel Craig. We've a great script, an extraordinary cast and an incredibly talented creative team for this latest James Bond adventure," said Wilson and Broccoli.
The Director of Photography is Roger Deakins, a nine-time Oscar® nominee who previously shot the films Jarhead and Revolutionary Road for Mendes. The Production Designer is Oscar® winner Dennis Gassner, who previously designed Quantum of Solace and collaborated with Mendes on the films Road to Perdition and Jarhead. The Editor is Stuart Baird, A.C.E., whose many credits include Casino Royale. Jany Temime, whose many credits include the Harry Potter series, In Bruges, and Children of Men, is the Costume Designer. Action specialist Alexander Witt is the 2nd Unit Director. Gary Powell is Stunt Co-ordinator, Chris Corbould is SFX Supervisor and Steve Begg is Visual Effects Supervisor, all of whom have worked on previous Bond films.
The Establishing Shot: WE ANALYSE THE SKYFALL TEASER TRAILER- THAT'S HOW YOU MAKE A TEASER TRAILER