---
Asian Cinema,
The Establishing Shot: We chat about The Raid with Director Gareth Evans his influences, sequels, remakes, his next steps, his dream project & find out how many push ups he can do!
T
he Raid
is currently smashing all shades of blue out of UK cinemas this week with bullets, fists, feet and just about anything within arms reach. Hopefully it will be in cinemas for a while longer as it's particular brand of - light on subtext heavy on punches action should really be experienced in bone crunching detail of the big screen.
The Raid
is an all out action movie that delivers on its promise and still impresses despite the hype from guys like me.You can read my thoughts on
The Raid
here
!
Whilst
The Raid
may still in cinemas this week, last week I was blindfolded, escorted to a secret dojo where I got to chat with the man who wrote, directed and edited
The Raid
- Mr
Gareth Evans
. I didn't know what to expect as he has been living in Indonesia for awhile and mixing it up with top performing martial artists as can be evidenced by his 2009 feature
Merantau
and now in stunning bloodsti-colour with
The Raid
.
Gareth turned out to be a top bloke, beneath his very easy going and cool facade, he was bubbling with energy, articulate and was pin point focused. I didn't spend much time with him but would have been hard pressed to uncover more insight from him if I had as his answers delivered loads of information very quickly and allowed us to cover quite a bit. Without further ado –
The Establishing Shot chats The Raid with Gareth Evans
:
GARETH EVANS ON HIS AND PENCAK SILAT EXPERIENCE
OK! I did it for about 10 months for the first movie so in terms of me as a practitioner I haven't done it for awhile now. But the guys in the film they do it a lot more often.
WHICH NATURALLY LEADS TO HOW MANY PRESSUPS CAN YOU DO?
Right now, not many but
Yayan Ruhian
who plays Mad Dog, that guy is a maniac he can do 5oo press-ups and 500 sit ups. There is no surprise there because when you see him he is carved out of wood. He is a strong chap.
PRETTY MUCH EVERYONE IN THE RAID IS AN ACTION STAR IN THEIR OWN RIGHT
Yea, exactly - we did a big casting process and saw 400 odd people and whittled that down to about 80 that could do the screen fighting that we needed on
The Raid
.
Video: The Establishing Shot: Gareth Evans talks about The Raid and his next steps (HD)
CAN YOU TELL US A LITTLE BIT ABOUT YOUR RELATIONSHIP WITH IKO UWAIS
I met him on a documentary, I was directing a documentary about Pencak Silat, he was a student of one of the masters I was filming. We saw him doing a practice session one day.
Immediately he screamed out that he had this screen presence about him, he had this natural ability to deliver Silat in a way that looked super exciting and looked very visual and very cinematic. I immediately thought we have to work with this guy we have to find a way to do something with him. And we did
Merantau
and now
The Raid
.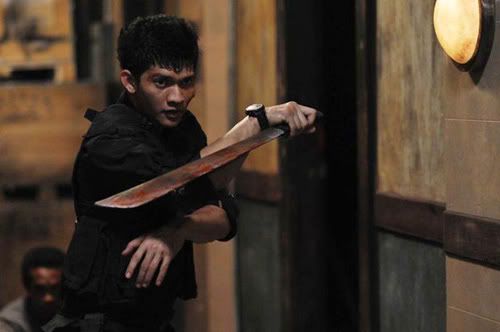 Image: The Raid Iko Uwais as Rama
SO HOW DO YOU GO FROM WALES TO DIRECTING A TOP ACTION FILM IN INDONESIA?
It was all about that documentary. I was based in Wales up until I was 27. I had always wanted to be in the film industry but never really did enough to get noticed. I didn't push myself enough. So it's mainly my fault I didn't do films here.
My wife saw that I wasn't fulfilling what I set out to do. She is Indonesian Japanese so she put out a few phone calls with some producers she knew in Indonesia. And she got my a directing gig – that was the documentary and that introduced me not only to
Iko Uwais
but the martial art of Silat as well.
SOMETHING I FIND WITH EASTERN FILMS, PARTICULARY MARTIAL ARTS FILMS IS THAT THERE IS A HUGE AMOUNT OF IDEOLOGY, PHILOSOPHY AND DEEPER MEANING TO IT, AUDIENCES IN THE EAST UNDERSTANDS THAT BUT A LOT OF THE MEANING IS LOST ON WESTERN AUDIENCES. I WAS WONDERING - AS THE RAID TAKES THE IS ALL OUT ACTION ROUTE. WAS THAT ALWAYS THE INTENTION OR WAS THERE A TIME THAT A MORE PHILISOPHICAL APPROACH WAS CONSIDERED?
I think it was one of those things were our first movie
Merantau
was so much about the tradition and the culture that really, with
The Raid
I just wanted to go out and have fun with it.
Our approach was more a reaction to the last year and a half of struggling to get finance for a different film and when that fell through and this became the backup I was you know what I'm going to do what I want on this one, I am going to have so much fun with
The Raid
.
Initially I thought it was going to be a breezy 80 minute movie, it ended up being a 100, but still had that break neck pace I was going for. We put little cultural elements and touches in it – like the spiritual, physical and mental preparation that
Iko Uwais
goes through in the morning when he is prays, exercises and says goodbye to his wife.
That was something that we put in very subtlety, to give the idea hey here you go here is a Muslim hero. But without it being preachy. We tried to put in little touches rather than go over board or be heavy handed with it. I think if we tried to force too much culture or tradition in
The Raid
it would have been imbalanced and wouldn't have the same freneticism as we were going for.
Video: The Establishing Shot: Raid Redemption - In Training 2 Clip
A LARGE PART OF THE MAGIC OF THE RAID FOR ME WAS NOT ONLY THE PHYSICAL ASPECTS AND ACTION -WHICH IS FULL ON FULL THROTTLE - BUT THE ATMOSPHERE YOU CREATE. CAN YOU TELL US ABOUT SOME OF YOUR CINEMATIC AND NARRATIVE INFLUENCES FOR THE RAID
Well when it came to designing
The Raid
I knew I had to bring it in on a decent budget and I couldn't go to far with it. We decided that it would all take place in one location, as soon as I figured that out I looked back at all the films I loved that had a similar set up. So I watched
Die Hard
,
Assault on Precinct 13
,
Escape from New York
,
[Rec]
&
[Rec] ²
. I realised that none of them were martial arts films, and they weren't really action films, they were more survival horror. I realised if I stripped away the action and took away the martial arts I was left with a survival horror concept.
Image: Iko Uwais making friends in The Raid
That kind of lent itself to the idea of – once the audience goes into the building. I'm not going to let go of you I'm going to drag you by the collar and drag you from one location to the next. Once that set piece is finished, you can't quite get your breathe because I'm going to give you something else - I'm going to give you; a horror scene, a claustrophobia scene and a tension, suspense thriller that kind of thing.
I realised early on I could do anything with
The Raid
and I didn't have to follow the tropes of a martial arts movie, I don't have to follow the genre conventions I could bring in different genres and mix them all up and see if I could get it to work organically without making it feel forced. That was exciting, to know that I could get away with that - really opened it up for me.
YOU MENTION [REC], ESCAPE FROM NEW YORK, ASSAULT ON PRECINCT 13, AS SOME OF YOUR FAVOURITE FILMS, WHO ARE YOUR FAVOURITE DIRECTORS?
John Carpenter
obviously,
John Woo
,
Jackie Chan
- I could roll off a list of names; I could say;
David Fincher
,
Martin Scorsese
,
Akira Kurosawa
,
Quentin Tarantino
,
Takeshi Kitano
,
Takashi Miike
- there are a lot of different filmmakers I love and admire. My favourite movie of all time is
Magnolia
by
Paul Thomas Anderson
he's a phenomenal and incredible film maker.
I consume a lot of different films. I watch everything I can possibly take in. What I love about there films is that when you watch their movies, they take you to a different place and it's a full experience and when you are in the cinema watching a movie and it takes you to a different world and you are in the hands of a director that is so confident and controlled in terms of what they are doing that's exciting and why I love cinema.

Video: The Establishing Shot: The Raid UK Exclusive Trailer The Raid: Redemption
YOU MENTION, TAKING YOUR AUDIENCE AND CONTROLLING THEM, MANY GREAT DIRECTORS REFER TO THIS. HOW DO YOU PREPARE FOR THAT OR WHAT FEEDS INTO THAT TO GET YOU INTO THAT MINDSET?
I don't know really. I don't know if there is a formula for it. For me it was always a case of – how to write that storyline and scenes so that it felt like they organically flowed from one to the next. That is something that I have always tried to do – to build up the film to a point, so you have a rolling scenes and one consequence leads to another. So it feels natural and the audiences are willing to go with it.
There is nothing harder than trying to introduce something when the audience isn't ready to go with you yet. I always try reach a logical point of conclusion.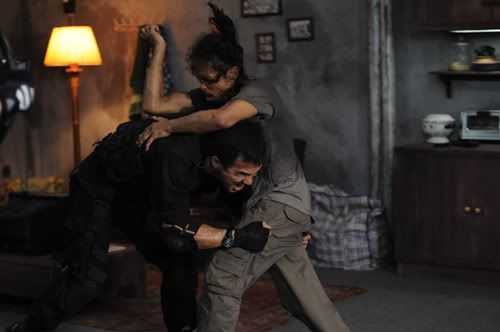 Image: Jaka (Joe Taslim) gets to grips with Mad Dog (Yayan Ruhian) in The Raid
I HAVE HEARD RUMOURS OF AN ENGLISH LANGUAGE REMAKE OF THE RAID, A SEQUEL TO THE RAID CALLED BERANDAL AS WELL AS AN ACTION FILM CALLED –BREAKING THE BANK - BASED ON ACTUAL EVENTS. CAN YOU SHED SOME LIGHT ON YOUR NEXT STEPS?
The US version of The Raid
With the American remake of
The Raid
I am Executive Producer, meaning that I have a certain amount of say in some decisions but not all. I feel the remake will work best with a fresh pair of eyes attached. So the Director has to have creative freedom and control to be able to bring their own thing to it. I feel that with
The Raid
we have a pretty good shell of an idea and there is a lot they can do inside that. They can take it in different directions and see where they are going to go with it.
I think that's exciting and I'm looking forward to seeing it. One of the really cool things about
The Raid
remake is that, they are using
Iko Uwais
and
Yayan Ruhian
as the fight choreography team, so we get to bring Silat to Hollywood which is great for us because that is part of our remit. Beyond making commercial films we want to promote Silat, so that's great.
Image: A quiet moment of repose in The Raid
The Raid sequel
I am shooting that in January next year (2013), the sequel is going to be different from
The Raid
, we aren't copying the formula. It is no longer inside the building; it's not about that one location, its expanding the universe so it's a continuation of the story and takes it out onto the streets instead and we meet the people that let Tama, the Boss (
Ray Sahetapy
) have the building . So these are his bosses, it's a much bigger world and complex storyline.
Breaking the Bank
Breaking the Bank
is something that is very early in development. But it is a fascinating story and something I was very excited by when the guys pitched it to me. I think it has a lot of potential. But it is too early to say anything about it but I'm looking forward to getting stuck into it after
The Raid
sequel and see how it goes.
FINAL QUESTION – IT SEEMS THAT THE ACTION GENRE HAS A SATURATION POINT IN TERMS OF GROWTH FOR DIRECTORS. DO YOU SEE YOURSELF BREAKING OUT OF THE ACTION GENRE?
Yea, for sure.
Breaking the Bank
is going to be one of those types of films. I don't see
Breaking the Bank
as a normal action film it is more interesting to me as a character piece, as a character study. That is something I want to do.
Meaning the stuff I do inside Indonesia will most likely going be martial arts action films, most likely going to be
Iko Uwais
vehicles, but the stuff I do outside of Indonesia will be me spreading my wings a little and trying to do different films and genres – so fingers crossed I can achieve some success with other movies as well.
If I could do it - my dream project would be to do a western at some point something along the lines of The
Wild Bunch
, because that's the film I would watch with my Dad all the time if I could do and in that genre that would be a great!
For more information and updates about The Raid:
Follow Director Gareth Evans on Twitter here
http://twitter.com/#!/ghuwevans
http://www.facebook.com/TheRaidUK
http://twitter.com/#!/TheRaidUK
http://www.totalfanhub.com/the-raid/
http://www.cult-labs.com/forums/raid-official-uk-forum/
The Raid: Redemption
Deep in the heart of Jakarta's slums stands an impenetrable apartment block; a safe house for the city's most dangerous killers and gangsters and considered untouchable to even the bravest of police. Cloaked under the cover of pre-dawn darkness and silence, an elite SWAT team is tasked with raiding the safe house in order to take down the notorious drug lord that runs it. When rookie cop Rama is the last man standing, he must fight his way to the top of the building to complete the mission and escape with his life.
Image: The Raid Poster
Winner of the 2011 Midnight Madness People's Choice Audience Award atthe Toronto Film Festival, the Audience and Critics' Choice Awards at the2012 Jameson Dublin International Film Festival, THE RAID stars thenewest martial arts sensation, Iko Uwais, was directed by Gareth Evans and features a kick ass score by Mike Shinoda and Joe Trapanese.
Director: Gareth Evans
Writer: Gareth Evans
Stars: Iko Uwais, Ananda George and Ray Sahetapy
THE ESTABLISHING SHOT: WE CHAT ABOUT THE RAID WITH DIRECTOR GARETH EVANS HIS INFLUENCES, SEQUELS, REMAKES, HIS NEXT STEPS, HIS DREAM PROJECT & FIND OUT HOW MANY PUSH UPS HE CAN DO!
C

raig's is a

retired superhero, an

obsessive hobbyist, comics fan, gadget lover & flâneur who knows an unhealthy amount about Ian Fleming's James Bond.





When not watching or making films he takes pictures, eats, drinks, dives, tries to connect to nature whilst mentally storyboarding the greatest film ever made. He also & sometimes

utilises owl-themed gadgets to fight crime.



A list of his 132 favourite films can be found here!

If you would still like to contact Craig please use any of the buttons below: